Government Affairs Session
Thursday, August 22, 2019
At the 2018 Summer NAPE, IPAA's Samantha McDonald gave a presentation describing the changing framework of federal regulations from the Trump Administration and addressed the challenges Congress faces codifying these reforms. This discussion also highlighted key federal regulations to independent producers regarding air, water, waste and wildlife.
2018 Featured Speaker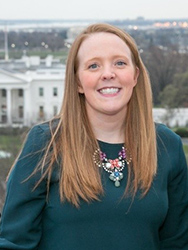 Samantha McDonald
"Trump, Congress and Petroleum in 2018"
Sam, director of government relations at the Independent Petroleum Association of America in Washington D.C., is a federal registered lobbyist for 9,000 IPAA members, a position she's held since January 2013. Sam is the director of the association's wildlife advocacy portfolio, as well as the director of the website esawatch.org.
Prior to her most recent position, she worked on Capitol Hill for 6 years, most recently as a legislative assistant to Congressman John Fleming, (R-LA) where she managed the Congressman's legislative portfolios on energy, natural resources, agriculture, trade, small business, education, labor and telecommunications. She was also his point-person to the House Natural Resources Committee, and during his Chairmanship of the Subcommittee on Fisheries, Wildlife, Oceans and Insular Affairs. Sam also held various other positions on Capitol Hill working for Congressman Steve King (R-IA) and Congressman John Fleming (R-LA).
McDonald holds a bachelor's degree in political science from the University of Scranton and a master's degree in legislative affairs from the George Washington University's Graduate School of Political Management in Washington, D.C.
Read More