NAPE Charities Luncheon
Thursday, February 14, 2019
At NAPE, we believe in giving back. Since 2009, we have raised over 3.25 million dollars to help charities support U.S. Veterans through our annual NAPE Charities Luncheon. We lend our wholehearted support by covering all luncheon costs, so 100% of the funds donated go directly to the charities. Each year, our luncheon features different speakers and spotlights a group of deserving charities as award recipients.
Lend your support to deserving veterans by participating in the NAPE Charities Luncheon. Sponsorships are available at wide-ranging levels and include special perks such as a photo op with the keynote speaker as well as premier reserved seating at the luncheon. Individual tickets are also available for purchase.
*NAPE Charities ticket required to attend
All sponsorships and donations are distributed to the following organizations:
**Important Information**
The doors will close at 11:00 am and there will be no entry or re-entry allowed. No exceptions.
Lunch will be served at the conclusion of the keynote and check presentation.
2019 KEYNOTE SPEAKERS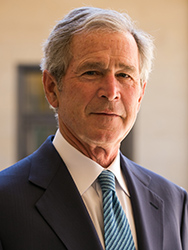 President George W. Bush
President Bush was born July 6, 1946, in New Haven, Connecticut, to Barbara and George H.W. Bush – later the 41st President of the United States. In 1948, the family moved to Texas, where President Bush grew up in Midland and Houston. He received a bachelor's degree in history from Yale University in 1968 and then served as a pilot in the Texas Air National Guard. President Bush received a master's degree in business administration from Harvard Business School in 1975. Following graduation, he moved back to Midland and began a career in the energy business. After working on his father's successful 1988 Presidential campaign, President Bush led a group of partners that purchased the Texas Rangers baseball
franchise in 1989.
On November 8, 1994, George W. Bush was elected the 46th Governor of Texas. He became the first governor in Texas history to be elected to consecutive four-year terms when he was re-elected on November 3, 1998. In Austin, he earned a reputation for his bipartisan governing approach and his compassionate conservative philosophy, which was based on education reform, limited government, personal responsibility, strong families and local control.
As President, George W. Bush worked to expand freedom, opportunity and security at home and abroad. His first initiative as President was the No Child Left Behind Act, a bipartisan measure that raised standards in schools, insisted on accountability in return for federal dollars and led to measurable gains in achievement – especially among minority students. Faced with a recession when he took office, President Bush cut taxes for every federal income taxpayer, which helped lead to an unprecedented 52 straight months of job creation. President Bush also modernized Medicare by adding a prescription drug benefit that provided access to needed medicine for 40 million seniors and other beneficiaries.
President Bush implemented free trade agreements with more than a dozen nations; empowered America's armies of compassion by creating USA Freedom Corps and the Office of Faith-Based and Community Initiatives; promoted a culture of life; improved air quality and made America's energy supply more secure; designated more ocean area habitats for environmental protection than any predecessor; transformed the military to meet the changing threats of the 21st century and nearly doubled government support for veterans; pioneered a new development strategy that tied American foreign aid to reform and good governance; launched global HIV/AIDS and malaria initiatives that have saved millions of lives; expanded the NATO alliance; forged a historic new partnership with India; and appointed Chief Justice John Roberts and Justice Samuel Alito to the U.S. Supreme Court.
The most significant event of President Bush's tenure came on September 11, 2001, when terrorists killed nearly 3,000 people on American soil. President Bush responded with a comprehensive strategy to protect the American people. He led the most dramatic reorganization of the federal government since the beginning of the Cold War, reforming the intelligence community and establishing new institutions like the Department of Homeland Security. He built global coalitions to remove violent regimes in Afghanistan and Iraq that threatened America, liberating more than 50 million people from tyranny. Recognizing that freedom and hope are the best alternative to the extremist ideology of the terrorists, he provided unprecedented American support for young democracies and dissidents in the Middle East, Eastern Europe, and elsewhere. In the more than seven years President Bush remained in office following September 11, 2001, the United States was not attacked again.
Since leaving office, President Bush has returned to Texas, where he has focused his attention on the development of the George W. Bush Presidential Center at Southern Methodist University in Dallas, which opened in May 2013. The Bush Center encompasses President Bush's presidential library, museum and archives, as well as the George W. Bush Institute. The Bush Institute seeks to improve the human condition, and its work is based on the principles that have guided President Bush throughout his life: freedom is universal; each human life is precious; to whom much is given, much is required; and the marketplace is the best way to allocate resources. President Bush has continued to promote these values through the work of the Bush Institute in economic growth, education reform, global health, human freedom, the Military Service Initiative and the Women's Initiative. Through events like the Warrior Open Golf Tournament, a 36-hole competition that brings together patriots who volunteered to defend our Nation in the face of danger and were severely wounded in the War on Terror and programs such as Pink Ribbon Red Ribbon, an innovative partnership established to leverage public and private investments in global health to combat breast and cervical cancer in developing nations in Sub-Saharan Africa and Latin America, President Bush continues his public service and advancing the policies he has championed
throughout his life through the work of the Bush Institute.
In addition to his work with the Bush Center, President Bush published his memoir, Decision Points, a personal and candid account of the most defining decisions of his personal life and presidency in the fall of 2010. He is also the author of an intimate biography of his father, President George H.W. Bush, entitled 41: A Portrait of My Father. In the spring of 2017, President Bush released another book entitled Portraits of Courage: A Commander in Chief's Tribute to America's Warriors, a vibrant collection of oil paintings and stories by President Bush honoring the sacrifice and courage of America's military veterans. President Bush partnered with President Bill Clinton in the wake of Haiti's devastating earthquake to lead a major fundraising effort to assist the Haitian people. President Bush also serves as the Honorary Chairman of the First Tee, an organization that provides young people with characterbuilding and life skills lessons using golf as the platform.
President Bush is married to Laura Welch Bush, a former teacher and librarian whom he met at a friend's backyard barbeque. They have twin daughters, Barbara and Jenna, a son-in-law, Henry Hager, and two granddaughters, Mila and Poppy Louise Hager. The Bush family also includes two cats, Bob and Bernadette, and a dog, Freddy.
Read More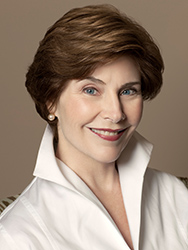 Former First Lady Laura W. Bush
After leaving the White House, President and Mrs. Bush founded the George W. Bush Presidential Center in Dallas, Texas. The Center is home to the Bush Presidential Museum and Library and the George W. Bush Institute, a public policy center established to solve today's most pressing challenges by developing leaders, advancing policy, and taking action.
As Chair of the Bush Institute's Women's Initiative, Mrs. Bush promotes access to education, healthcare, and economic opportunity for women and girls around the world. The Women's Initiative programs are preparing and empowering the next generation of women leaders in North Africa and the Middle East, working to ensure the expansion and protection of women's rights in Afghanistan, and engaging and supporting First Ladies from around the world to effectively use their unique platforms to advance issues for women and girls in their countries.
Laura Bush is a leading voice for spreading freedom and promoting human rights across the globe. For more than a decade, she has led efforts through the U.S.-Afghan Women's Council to protect the hardearned rights of women in that country. As First Lady, she made three trips to Afghanistan and in 2001 she delivered the President's weekly radio address—a first for a First Lady—to direct international attention to the Taliban's oppression of women.
Long a supporter of the people of Burma, in 2006 Laura Bush hosted a roundtable discussion on Burma at the United Nations headquarters in New York. After Cyclone Nargis devastated the country in May 2008, she held an unprecedented press conference in the White House Press Briefing Room and urged the ruling junta to accept international aid. She then traveled to the Thai-Burma border, where she met with Burmese refugees. In 2012, Mrs. Bush helped to bestow the Congressional Gold Medal to Burmese opposition leader Daw Aung San Suu Kyi. The legislation awarding the medal to Daw Suu was signed by President Bush in 2008 when she was still living under house arrest in Burma.
As First Lady, Mrs. Bush advocated the importance of literacy and education to advance opportunity for America's young people and to foster healthy families and communities. She highlighted the importance of preparing children to become lifelong learners, convening in 2001 a White House Summit on Early Childhood Cognitive Development. Laura Bush has visited schools around the world and met with students in nations from Afghanistan to Zambia, with a particular focus on the education of girls and women. Mrs. Bush worked with the Library of Congress to create the National Book Festival in Washington, D.C. in 2001. The National Book Festival continues to this day and annually attracts more than 120,000 Americans. The Texas Book Festival in Austin was founded in 1996 by Mrs. Bush while she was First Lady of Texas. At the Bush Institute in Dallas, President and Mrs. Bush's Education Reform initiative works to improve student achievement through effective school leadership, middle school transformation, and the use of accountability.
Because heart disease is the leading cause of death among American women, in 2003 Laura Bush partnered with the National Heart, Lung, and Blood Institute to launch The Heart Truth campaign and the Red Dress project. The Heart Truth campaign aims to raise awareness among women about their risk for heart disease. In 2006, she helped launch the first international partnerships for breast cancer awareness and research. As First Lady, she visited countries in Europe, the Middle East, Central and South America to support programs that help women detect breast cancer early so they can seek treatment when it has the best chance of success. Mrs. Bush has visited more than a dozen countries to support the President's Emergency Plan for AIDS Relief and the President's Malaria Initiative. Laura and George Bush continue their work to promote women's health through Pink Ribbon Red Ribbon, an independent affiliate of the George W. Bush Institute and a global partnership fighting women's cancers.
Mrs. Bush is the author of the bestselling memoir, Spoken From the Heart, and bestselling children's book, Our Great Big Backyard. She serves on many boards, including the National Advisory Board for the Salvation Army, the Council for the Smithsonian National Museum of African American History and Culture, the Board of Trustees for the National Trust for Historic Preservation, and the SMU Board of Trustees.
Laura Bush was born in Midland, Texas, to Harold and Jenna Welch. She holds a Bachelor of Science degree in education from Southern Methodist University and a master's degree in library science from the University of Texas. She taught in public schools in Dallas, Houston and Austin and worked as a public school librarian. She served as First Lady of Texas from 1995 to 2000. President and Mrs. Bush are the proud parents of twin daughters Barbara and Jenna, son-in-law Henry Hager, and happy grandparents to Margaret Laura "Mila" & Poppy Louise Hager. The Bush family also includes two cats, Bob and Bernadette.
Read More