Current Issue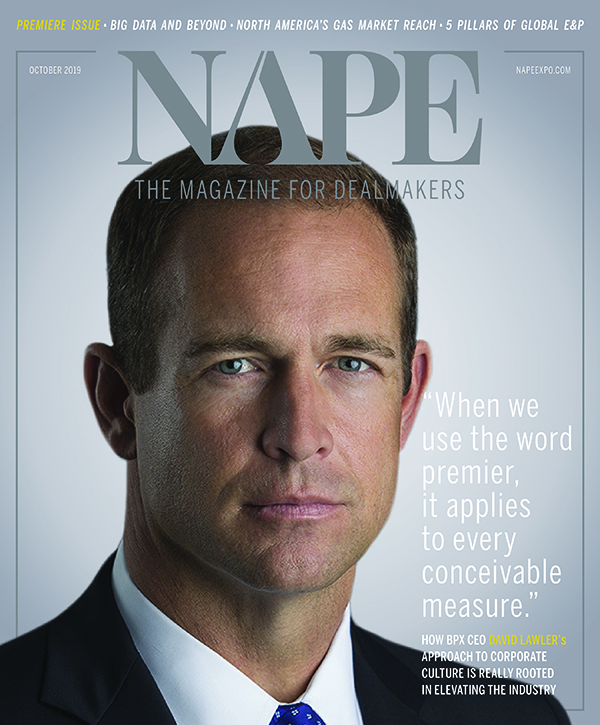 Premiere Issue
We are excited for this opportunity to expand the NAPE brand and to bring more value to our NAPE audience. NAPE is the place where deals happen. Now NAPE — The Magazine for Dealmakers will bring the insight, excitement and innovation of the NAPE expos directly to your mailboxes and keep the NAPE energy going year-round.
The inaugural issue of the NAPE magazine highlights include:
David Lawler, CEO of BPX
Kim McHugh, vice president of Drilling & Completions at Chevron Corp.
AAPL's own Don Clark, president of DBC Resources
Trend pieces on big data, global markets and the shale revolution
Expert insights on energy price volatility
Tips for creating a companywide learning culture
New research that debunks exercise myths
Summer NAPE highlights
NAPE Classic Golf Tournament purple jacket ceremony
Buzz from the NAPE show floor
"Then and now" photos from expos past and present
Magazine Information
The quarterly, full-color print and digital business journal is tailored for upstream oil and gas professionals. It is mailed as a complimentary subscription to the 15,000-plus attendees of the NAPE expos (NAPEexpo.com). These oil and gas decision-makers include executives, landmen, geologists, engineers, geophysicists and financiers from independent O&G companies large and small, the majors and international players. In addition, 71% of subscribers are at the executive director or manager level.
NAPE magazine is packed with news-you-can-use that informs, educates and helps busy decision-makers make deals happen. We are proud to provide a complimentary subscription to NAPE attendees as an insightful resource and also as a thank you for their part in igniting the industry and fueling the American economy. Like the NAPE expos, NAPE — The Magazine for Dealmakers is created by industry for industry — with the profits invested back into our industry.