Global Business Conference
Wednesday, February 13, 2019
The NAPE Global Business Conference features presentations that explore the industry's most pressing topics. Several "C-suite" presenters are brought to one stage the day before the Expo doors open, offering attendees extra networking time while receiving exclusive insights into the oil and gas industry.

8:30 a.m. - 9:30 a.m.
Registration and Breakfast
9:30 a.m. - 9:40 a.m.
Welcome Remarks/Speaker Introduction
9:40 a.m. - 10:30 a.m.
OCS Panel:
Moderator: J. Keith Couvillion| North America Land Advisor, Chevron U.S.A. Inc.
Panelist #1: To Be Announced
Panelist #2: To Be Announced
Panelist #3: To Be Announced
10:30 a.m.
Speaker Introduction
10:30 a.m. - 11:20 a.m.
Raising Capital Panel:
Moderator: Bill Marko | Managing Director, Jefferies LLC
Panelist #1: Jimmy Crain | Partner, EnCap Investments L.P.
Panelist #2: To Be Announced
Panelist #3: To Be Announced
11:20 a.m.
Morning Session Closing
11:30 a.m.
Luncheon Welcome
11:40 a.m. - 12:20 p.m.
Topic: Being a "Consumer" of Private Equity
Donald Burdick | CEO, Olifant Energy
12:20 p.m.
Speaker Introduction
12:25 p.m. - 1:15 p.m.
Luncheon Keynote:
Topic:Mergers and Where is Domestic E&P Going Today
Mike Grimm | President, Rising Star Petroleum, LLC
1:15 p.m. - 1:25 p.m.
Luncheon Closing
1:25 p.m.
Speaker Introduction
1:25 p.m. - 2:15 p.m.
Topic:
Matt Ramsey | President and COO, Energy Transfer Partners
2:15 p.m.
Speaker Introduction
2:15 p.m. - 3:05 p.m.
Topic: International Exploration
Mark Gunnin | President, Hunt Oil Company
3:05 p.m. - 3:15 p.m.
Break
3:15 p.m.
Speaker Introduction
3:15 p.m. - 4:05 p.m.
Topic: Oil and GasPrice and Commodity
Kristy Kramer
John Coleman
4:05 p.m. - 4:15 p.m.
Closing Remarks
2018 Global Business Conference Keynote Speakers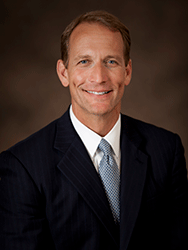 Doug Lawler
"Chesapeake Energy: The Transformation and the Future"
Doug Lawler has been President and Chief Executive Officer of Chesapeake Energy since June 2013. Before joining Chesapeake, Mr. Lawler served as Senior Vice President of International and Deepwater Operations at Anadarko Petroleum Corporation and as a member of Anadarko's Executive Committee from July 2012 to June 2013. Prior to that time, he served as Anadarko's Vice President of International Operations from December 2011 to July 2012, Vice President of Operations for the Southern and Appalachia Region from March 2009 to July 2012 and Vice President of Corporate Planning from August 2008 to March 2009. Mr. Lawler began his career with Kerr-McGee Corporation in 1988 and joined Anadarko following its acquisition of Kerr-McGee in August 2006.
Mr. Lawler currently serves on the Board of Directors of Pilot Flying J, the American Petroleum Institute, State Chamber of Oklahoma, Greater Oklahoma City Chamber, United Way of Central Oklahoma, Harold Hamm Diabetes Center and the Oklahoma State Fair. He is a Senior Advisor to the University of Oklahoma's Price College Board of Advisors and a member of Rice
University's Jones Graduate School of Business Council of Overseers. Mr. Lawler graduated from the Colorado School of Mines in 1988 and from Rice University in 2002.
Read More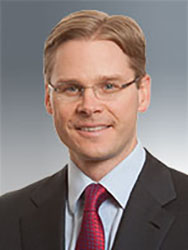 Wil VanLoh
"The Changing Role of Private Equity in the Energy Industry"
Wil VanLoh is the President and CEO of Quantum Energy Partners, which he co-founded in 1998. Quantum manages a family of energy-focused private equity funds, with more than $13 billion of capital under management. Wil also serves as Chairman of the firm's Executive and Investment Committees. In these capacities, he leads the firm's investment strategy and capital allocation process, working closely with the investment team to ensure its successful implementation and execution. Prior to co-founding Quantum, Wil co-founded Windrock Capital, Ltd., an energy investment banking firm specializing in raising private equity for and providing merger, acquisition and divestiture advice to private energy companies. Prior to Windrock, he worked in the energy investment banking groups of Kidder, Peabody & Co. and NationsBank. He holds a B.B.A. in Finance from Texas Christian University.
Read More
THANKS TO OUR GLOBAL BUSINESS CONFERENCE SPONSORS