Current Issue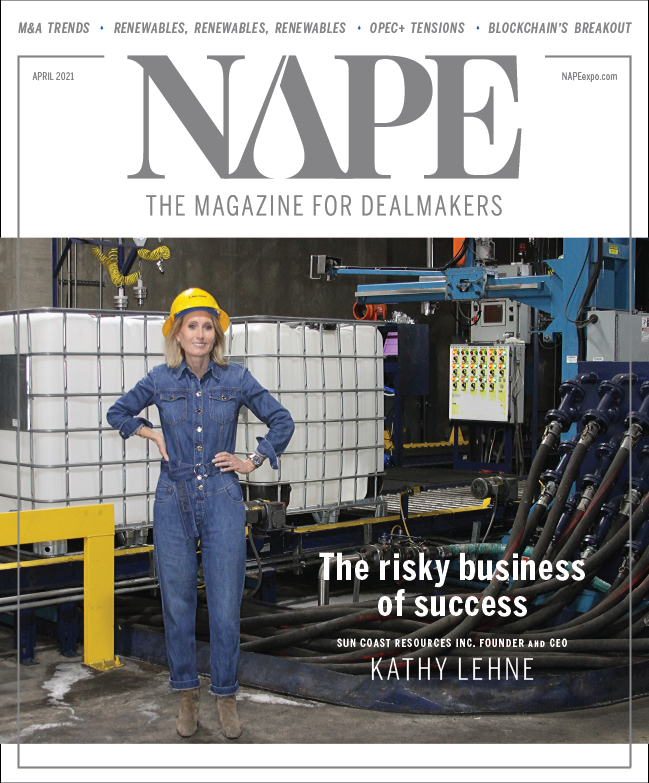 April 2021 Issue
NAPE — The Magazine for Dealmakers brings the insight, excitement and innovation of the NAPE expos directly to your mailboxes and inboxes to keep the NAPE energy going year-round. NAPE magazine is packed with news-you-can-use that informs, educates and helps busy decision-makers make deals happen.
Current issue highlights include:
Sun Coast Resources Inc. Founder and CEO Kathy Lehne
Oil and Gas + Renewables
M&A Outlook
Blockchain's Breakout
OPEC+ Tensions
RealX CEO Luke Glass
Magazine Information
The quarterly, full-color print and digital business journal is tailored for energy professionals. It is mailed as a complimentary subscription to the 15,000-plus attendees of the NAPE expos. These decision-makers include executives, landmen, geologists, engineers, geophysicists and financiers from independent O&G companies large and small, the majors and international players.
Article Submission
Have an article or idea for our next story? We'd love to hear from you!