Current Issue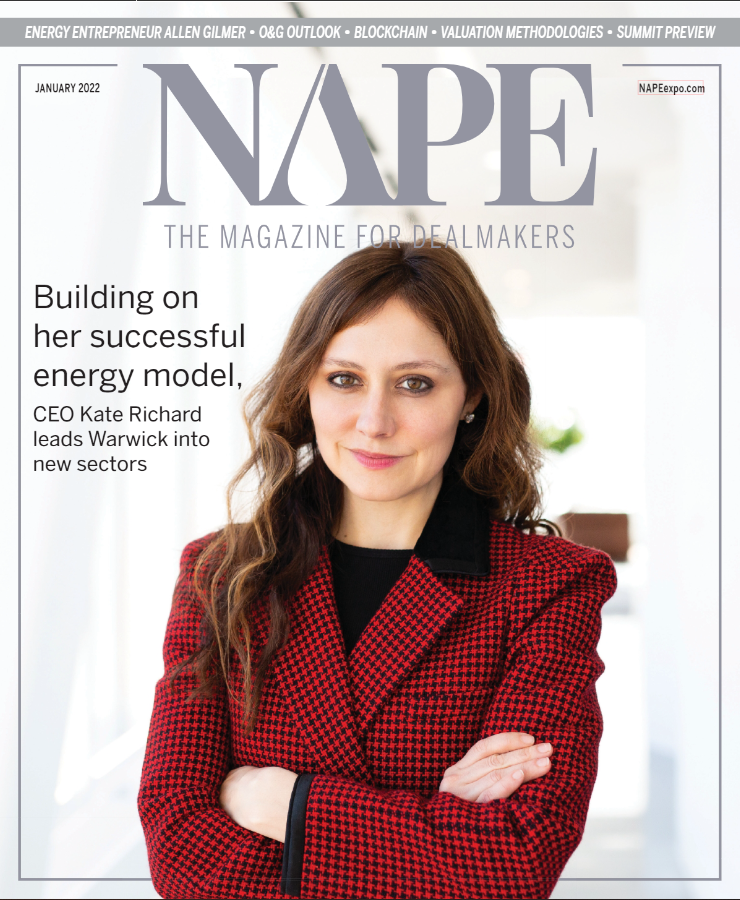 January 2022 Issue
NAPE — The Magazine for Dealmakers brings the insight, excitement and innovation of the NAPE expos directly to your mailboxes and inboxes to keep the NAPE energy going year-round. NAPE magazine is packed with news-you-can-use that informs, educates and helps busy decision-makers make deals happen.
Current issue highlights include:
CEO spotlight on Kate Richard of Warwick Investment Group
Dealmaker spotlight on Allen Gilmer, founder and former CEO/chairman of Enverus
Conversation from the C-Suite with Todd Brooker, president of Cawley, Gillespie and Associates
Private equity in the energy transition
Sponsors for women in energy
NAPE Summit preview
Continuing discussion on women in energy
Oil and gas outlook
Big data feature on blockchain
Renewables feature on hydrogen
Magazine Information
The quarterly, full-color print and digital business journal is tailored for energy professionals. It is mailed as a complimentary subscription to the 15,000-plus attendees of the NAPE expos. These decision-makers include executives, landmen, geologists, engineers, geophysicists and financiers from independent O&G companies large and small, the majors and international players.
Article Submission
Have an article or idea for our next story? We'd love to hear from you!