NAPE Magazine — The Magazine for Dealmakers
NAPE — The Magazine for Dealmakers brings the insight, excitement and innovation of the NAPE expos directly to your mailboxes and inboxes to keep the NAPE energy going year-round. NAPE magazine is packed with news-you-can-use that informs, educates and helps busy decision-makers make deals happen.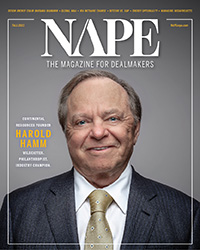 Fall 2023 Issue
Inside the fall issue:
Dealmaker Spotlight: Continental Resources Founder Harold Hamm
From the Boardroom: Devon Chair Barbara Baumann
Global M&A: Energy power deals are poised to grow market share
Women in Energy: Bonnie Maillett reflects on her hard-won path to success
U.S. onshore upstream oil and gas prepares for IRA waste methane emissions charge coming in 2024
Negotiating Styles: Which is best?
Spotlight on the Hamm Institute and the value of U.S. energy independence
Q&A about bitcoin mining and upstream exploration
Scott Tinker's expert insights on managing energy
What black swan technology projects can tell us about managing megaprojects
Energizing extraordinary health care advances thanks to energy
Magazine Information
The quarterly, full-color print and digital business journal is tailored for energy professionals. It is mailed as a complimentary subscription to the 10,000-plus attendees of the NAPE expos. These decision-makers include executives, landmen, geologists, engineers, geophysicists and financiers from independent O&G companies large and small, the majors and international players.
Article Submission
Have an article or idea for our next story? We'd love to hear from you!
Magazine Advertisers