Current Issue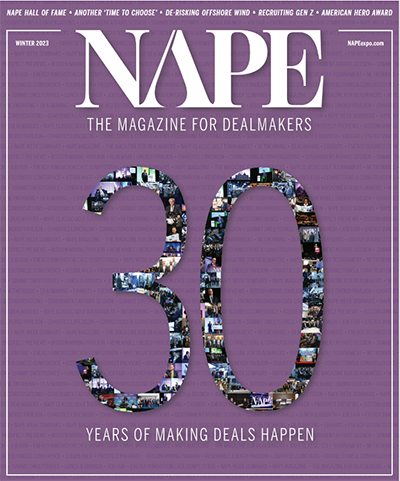 Winter 2023 Issue
NAPE — The Magazine for Dealmakers brings the insight, excitement and innovation of the NAPE expos directly to your mailboxes and inboxes to keep the NAPE energy going year-round. NAPE magazine is packed with news-you-can-use that informs, educates and helps busy decision-makers make deals happen.

The winter issue of NAPE magazine looks back at 30 years of dealmaking and energy industry milestones.
Current issue highlights include:
Dealmaker Spotlight on NAPE Hall of Fame Class of 2023
History of NAPE — 30 years of making deals happen
Energy timelines
Women in Energy — a 30 year retrospective
Offshore wind
NAPE Classic Plus
American Hero Award honoring Anthony J. DeToto Sr.
Recruiting Gen Z
Magazine Information
The quarterly, full-color print and digital business journal is tailored for energy professionals. It is mailed as a complimentary subscription to the 10,000-plus attendees of the NAPE expos. These decision-makers include executives, landmen, geologists, engineers, geophysicists and financiers from independent O&G companies large and small, the majors and international players.
Article Submission
Have an article or idea for our next story? We'd love to hear from you!
Magazine Advertisers
Thank you to our current NAPE magazine advertisers!