Current Issue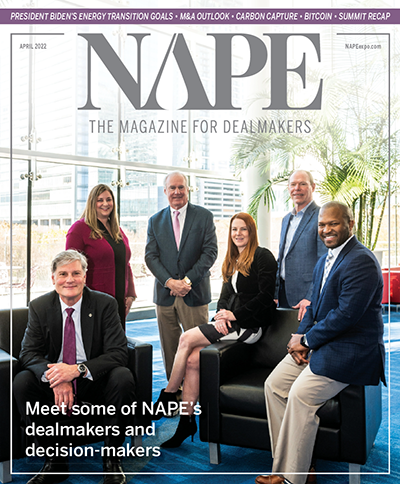 April 2022 Issue
NAPE — The Magazine for Dealmakers brings the insight, excitement and innovation of the NAPE expos directly to your mailboxes and inboxes to keep the NAPE energy going year-round. NAPE magazine is packed with news-you-can-use that informs, educates and helps busy decision-makers make deals happen.
Current issue highlights include:
Dealmakers & Decision-Makers of NAPE
2022 NAPE Summit Recap
Q&A with former Secretary of State and CIA Director (and dealmaker) Mike Pompeo
CEO Spotlight on Jay R. Young, King Operating Corp.
M&A Outlook
Nuclear Power
Carbon Capture
Bitcoin
Leadership and Complex Problem-Solving
Magazine Information
The quarterly, full-color print and digital business journal is tailored for energy professionals. It is mailed as a complimentary subscription to the 15,000-plus attendees of the NAPE expos. These decision-makers include executives, landmen, geologists, engineers, geophysicists and financiers from independent O&G companies large and small, the majors and international players.
Article Submission
Have an article or idea for our next story? We'd love to hear from you!