About NAPE Expo®
The Biggest. The Best.
NAPE Expo is the energy industry's marketplace for the buying, selling and trading of prospects and producing properties.
Founded in 1993 by AAPL as the North American Prospect Expo — with partners IPAA, SEG and AAPG added over the next several years — NAPE Expo has become the largest exhibition of its kind in the world, providing unmatched venues for energy professionals to meet, network, connect and do business.
Our one-of-a-kind events focus on showcasing prospects in an environment where people come with the expectation of doing business. There is no other trade show in the industry that replicates this combination or our track record of success. Deals are made at NAPE Expo because we attract all the parties necessary to evaluate, fund and make deals. Investors, financiers, lawyers and small to large E&P's view NAPE Expo as the place to find out what is happening in the industry and to look for opportunities to grow their business. The energy industry is fueled by deals. And NAPE Expo is where deals happen.
Currently, NAPE hosts the following annual events:
NAPE Summit
NAPE Charities Golf Tournament
History
Get the whole story.
1992
AAPL launches the North American Prospect Expo
1993
AAPL hosts the first NAPE Expo at the Westin Galleria Hotel
1994
IPAA joins AAPL as partner of NAPE
1995
Investment community is invited to the NAPE show via capital markets exhibits
1998
NAPE moves expo to the to George R. Brown Convention Center
1999
International Forum concept is introduced at NAPE
2002
Inaugural NAPE Charities Luncheon is held
2005
NAPE expands adding an additional expo in Houston – Summer NAPE
SEG and AAPG join AAPL and IPAA as partners of NAPE
2012
43rd President of the United States of America, George W. Bush, attends NAPE as the Charities Luncheon keynote speaker
2013
NAPE expands to host expos in Pittsburgh and Denver, in addition to the two Houston events
2016
NAPE launches its global brand
2017
Due to market conditions, NAPE reiterates its focus on two Houston events – a global expo in February and a regionally-focused expo in August
2018
NAPE celebrates its 25th Anniversary of making deals happen
2019
NAPE launches NAPE — The Magazine for Dealmakers to complement expos
2020
NAPE partners with TCU to host new Energy Innovation Case Competition at NAPE Summit
NAPE launches new online platform 'NAPE Network' to host the first-ever virtual Summer NAPE
2021
NAPE adds a Renewable Energy Pavilion
2022
NAPE makes plans to include a Bitcoin Mining Pavilion in the expo
2023
NAPE marks 30 years of making deals happen and honors dealmaking legends and companies with the launch of the NAPE Hall of Fame
2024
NAPE expands the Renewable Energy and Bitcoin Mining pavilions into hubs and introduces the Minerals & NonOp Hub
Giving Back
At NAPE, we believe in giving back, and our years of success have enabled us to do so. We're honored to have been able to help a variety of local and national charities and to create a positive economic impact on the cities that host our events.
To date, NAPE has touched the lives of people beyond our attendees, exhibitors and sponsors. The impact of our organization includes: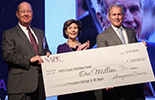 NAPE Expo Charities Fund
In 2019, America's oilmen honored the late President George H.W. Bush with a $1 million donation given in his name to the NAPE Expo Charities Fund to continue its mission of honoring veterans. Over the next 10 years, this generous donation will be distributed in $100,000 increments to veterans' charities selected by the NAPE Operators Committee.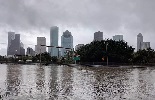 Hurricane Harvey Relief
In response to the devastation of Hurricane Harvey to NAPE's host city of Houston and the surrounding areas, the NAPE Charities Fund donated $50,000 to the American Red Cross to aid in the relief efforts.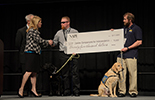 NAPE Charities Keynote
Held each year at the NAPE Summit, our annual NAPE Charities Keynote has raised over $5.25 million for various charities including ones that work with wounded and disabled U.S. veterans.
Economic Impact
Each event we host brings economic benefits to the host city. The positive economic impact we've made on Houston is estimated at $21.9 million annually.