Global Business Conference
Wednesday, August 18
The NAPE Global Business Conference features presentations that explore the industry's most pressing topics. Several "C-suite" presenters are brought to one stage the day before the Expo doors open, offering attendees extra networking time while receiving exclusive insights into the energy industry. Each session will be live-streamed and available on-demand on the NAPE Network.
Approved for 7 AAPL CEUs
Approved for 7 TX CLEs, 5 CO CLEs, 7 OK CLEs, 5.83 LA CLEs
2021 speakers and topics are subject to change.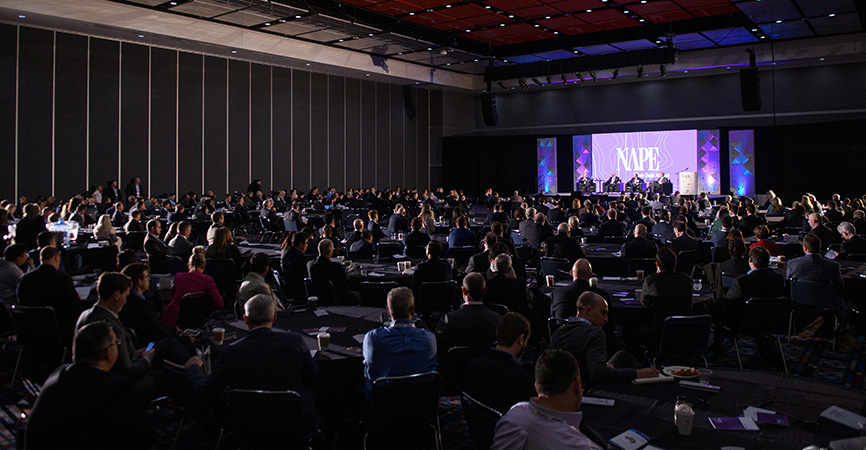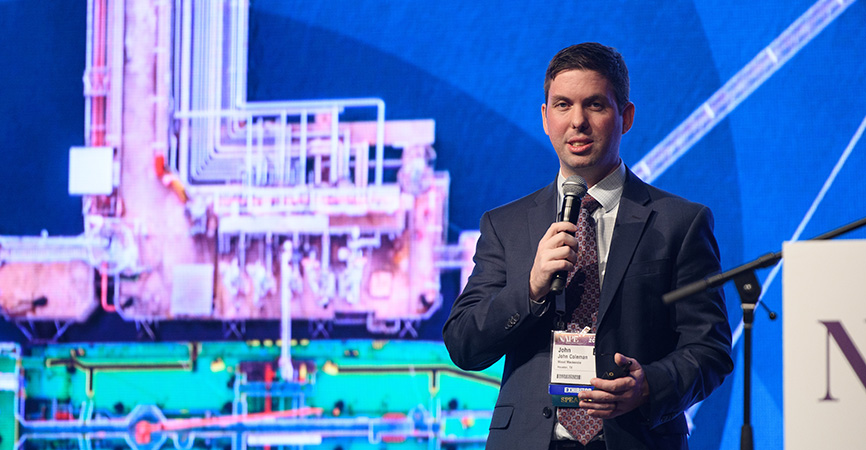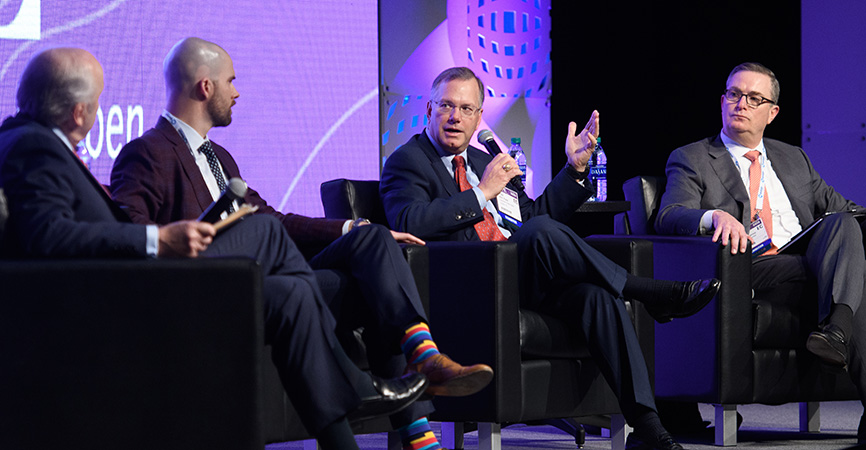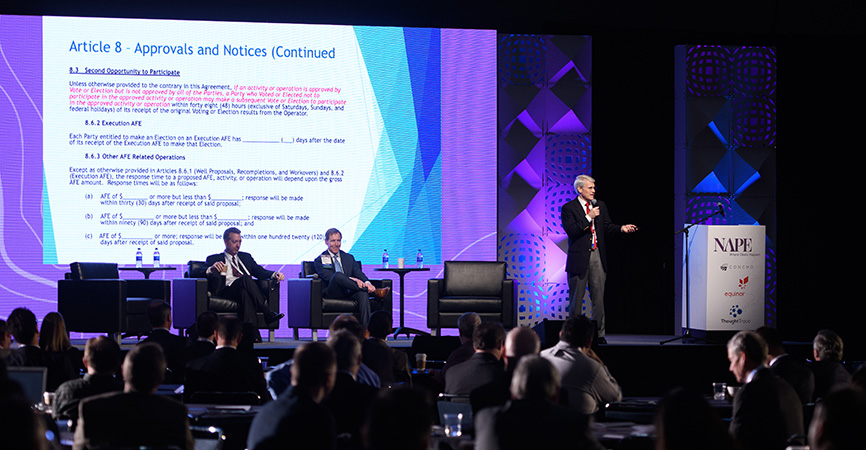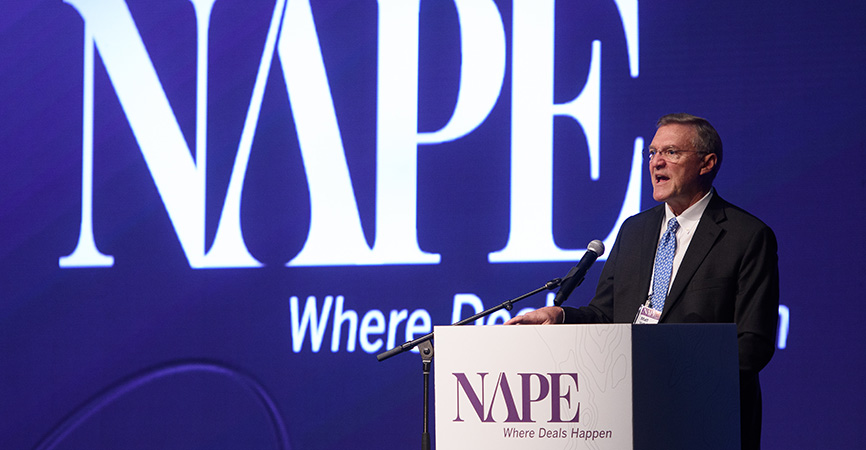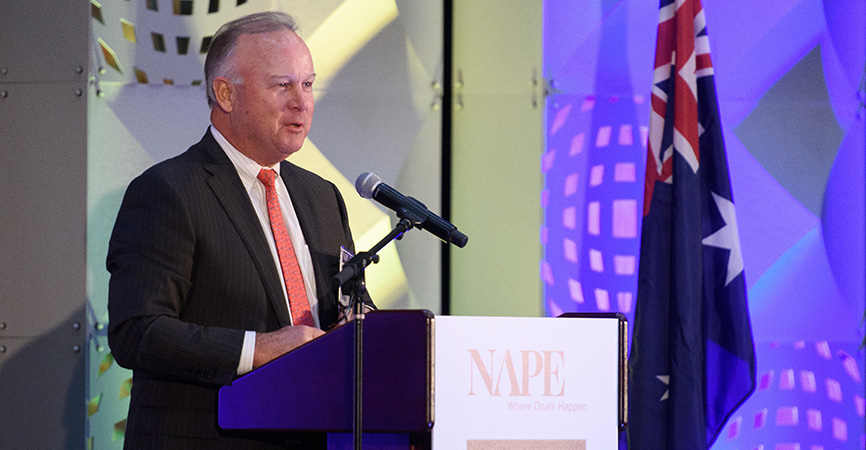 2021 SPEAKERS

9:10 am - 10:00 am CDT
Private Equity 2021: Feast or Famine
Private Equity and Producers in a Post-COVID World
Our industry took a "sucker punch to the gut" in 2020 – OPEC price wars, COVID demand destruction and stock market exodus left many producers on life support from heavy debt loads and restricted access to capital. Private Equity investors in the E&P space didn't fare much better than the producers. Will 2021 bring any respite to the industry? Will private equity continue to support management teams and their projects? Our panelist will provide their unique perspectives from the producer and private equity on how to navigate the ups and downs in 2021.
BIOS
Bernard "Buddy" F. Clark Jr., J.D. is the co-chair for the firm's Energy Practice Group representing clients in the oil and gas industry, including banks, private capital providers and producers in secured and unsecured credit transactions and equity investments; producers, joint ventures and midstream companies in oil and gas exploration, production and development agreements, and producing property and midstream acquisitions, joint developments and partnerships; and energy related litigation and bankruptcies. In June 2016, Buddy published Oil Capital: The History of American Oil, Wildcatters, Independents and Their Bankers, which traces the relationship between independent producers and their capital providers in America's oil and gas industry. Buddy is a frequent speaker at oil and gas conferences and is often cited as an authority on current issues facing the oil and gas industry in trade publications and financial journals.
--
Gregory M. Robbins most recently served as Memorial Resource Development Corp's Senior Vice President, Corporate Development. In this role, Mr. Robbins managed A&D as well as the Land Department. Mr. Robbins also held treasury, planning and general finance roles at Memorial. Prior to Memorial, Mr. Robbins served as Vice President and Controller of Quality Electric Steel Castings, LP. Prior to that, he was a Vice President with Guggenheim Partners, LLC originating, underwriting and managing energy-focused mezzanine and equity investments. Mr. Robbins also worked for Wells Fargo Energy Capital, LLC and Comerica Bank, Inc.
--
Michael A. Freeman maintains a corporate, M&A and energy practice, with an emphasis on advising E&P, midstream and other energy related companies. Mike's practice focuses on the areas of mergers and acquisitions, oil and gas upstream, and other energy related acquisitions and divestitures, securities offerings, corporate and other entity governance and other commercial transactions. His practice also includes divestitures, recapitalizations, joint ventures, distressed asset sales and acquisitions, securities compliance, and general business law matters.

Mike has advised a wide range of clients, from large multinational corporations to emerging growth and middle market companies, in a variety of industries. In addition to corporate clients, Mike has worked with private equity investment funds and individual private investors and has extensive experience advising private E&P and midstream companies in their negotiations with private equity sponsors for equity commitments. Mike has also worked on international Corporate transactions involving companies and assets located in foreign countries, including Canada, England, France, the Netherlands, the Netherlands Antilles, the British Virgin Islands and French Caribbean territories.
--
Chuck Yates serves on the Advisory Board of Cottonwood Venture Partners, an investment firm partnering with technology companies that provide digital solutions for the energy industry. Previously, he was managing partner for Kayne Anderson Capital Advisors' energy private equity activities, where he was responsible for the origination and execution of private equity transactions in the energy industry. Prior to joining Kayne Anderson in 2001, Yates was a senior vice president at Stephens Inc., an integrated merchant and investment bank. He earned a bachelor's degree in political science and an MBA in finance from Rice University.
Read More

10:05 am - 10:55 am CDT
Wooing Investors with Effective ESG Performance
Unpacking ESG: What It Is and Why It Matters
ESG (Environment, Social, and Governance) may seem like the newest trend in the energy space, but ESG is no more a trend than it is new; however, the emphasis on ESG as a standalone concept in energy has certainly grown, and in many cases, that growth has outpaced our understanding of how ESG risks and opportunities may impact our business. This interdisciplinary panel of ESG experts seeks to provide a multi-faceted understanding of ESG, including the relationship between ESG and the transition to a low-carbon economy. The discussion will focus on areas in the industry (including operations and production, asset evaluations and transactions, reporting and compliance, and third-party investment) in which ESG issues most commonly impact operators, investors and stakeholders alike. The panel will also explore how socially responsible energy companies have allowed ESG considerations to influence how they conduct business and the pros and cons of doing so.
BIOS
Kaitlyn Allen is sustainability-focused entrepreneur, business owner, and CEO. She is a sought-after expert on ESG (environmental/social/governance) investing and corporate sustainability communications strategy. Kaitlyn founded Global Affairs Associates, a boutique sustainability consultancy that helps clients bridge business and sustainability, in 2013. She and her team believe that business-centered approaches are crucial for creating long-lasting value. As CEO, Kaitlyn has grown Global Affairs Associates from an individual consulting practice to a well-respected boutique firm in Houston. As principal consultant, Kaitlyn has consulted on sustainability and ESG issues, including strategy, risk, communications, and transparency, for a variety of industries, including oil and gas, drilling, construction, midstream, and manufacturing. She trains international oil and gas executives on sustainability, lean management, process improvement, and strategy. Kaitlyn speaks frequently on the drivers behind the "ESG" (environmental/social/governance) investing trend, the differences in approaches to "responsible investment," and how companies can improve and articulate their ESG/sustainability value propositions.
In 2019, Kaitlyn co-founded the Resilient Business Forum with Amanda Hsieh in partnership with the Center for Houston's Future. Passionate about international relations, she is a Fellow of the National Committee on U.S.-China Relations' Young Leaders Forum, a diplomatic exchange between the U.S. and China, and is a member of the Associate Roundtable for Young Professionals at the Baker Institute for Public Policy at Rice University, where she serves as co-chair of the Latin America/Mexico subcommittee. She received the U.S. Critical Language Scholarship award to study Turkish in Turkey in 2011, and speaks fluent Spanish, French and Portuguese. A proud alumna of Georgetown University and Trinity University, Kaitlyn is a native Houstonian and currently resides in Houston.
--
Alejandra "Ale" Veltman is a financial executive with over 28 years of experience. Ms. Veltmann is Founder and CEO of ESG Lynk, a leading sustainability reporting company dedicated to aligning corporate strategy with relevant ESG factors to enhance investor and capital market attractiveness. Prior to this role, she served as Vice President and Chief Accounting Officer at Paragon Offshore, a NYSE listed global offshore oil and gas drilling company. She was also Vice President and Chief Accounting Officer at Geokinetics, a NYSE listed international land and shallow water geophysical services firm. Prior to that, Ms. Veltmann worked in the audit practice as a senior manager for KPMG LLP where she led global multi-million-dollar client service teams and began her career with Arthur Andersen LLP. She is an international strategist with the ability to build diverse teams and cultivate international relations. Her past international experience included oversight of operations in three continents.
When Ale is not advising clients, she serves as Director of the Board of the Anderson Foundation at the University of New Mexico, the Board of Royal Oaks Country Club, the Advisory Council of the K.B. Hutchison Center for Energy, Law & Business of the University of Texas at Austin, and Advisory Board Member of Inspire Women, a non-profit women's organization.
She is a certified public accountant and holds a BBA degree in Accounting from The University of New Mexico and is an alumna of the Advanced Management Program at Harvard Business School. She is a Governance Fellow of the National Association of Corporate Directors and holds the Fundamentals of Sustainability Accounting (FSA) Credential form the Sustainability Accounting Standards Board.
--
Craig Webster oversees the ESG advisory practice at Tudor, Pickering, Holt & Co, advising the firm's corporate clients on emerging ESG issues and related strategic considerations. Prior to launching the sustainability initiative at TPH, Mr. Webster was a managing director in the firm's Securities business where he sat on the group's Senior Leadership Council. He began his energy career in equity research in Canada before migrating to both equity sales and management roles with global investment banks in Toronto and New York.
--
Chris Kirt is Vice President of Corporate Governance and Corporate Secretary. He also serves as associate general counsel and as chairman of Devon's Environmental, Social and Governance Steering Committee. Chris has been with Devon since 2008, holding positions of increasing responsibility within the company's legal team until 2018, when he was named to his current position. Before joining Devon, Kirt worked for Crowe & Dunlevy as a director of the law firm's Tulsa office. He holds a bachelor's degree in business administration from Trinity University and a law degree from the University of Oklahoma. He is a member of the Society of Corporate Secretaries & Governance Professionals and the Oklahoma Bar Association.
--
Michael Rubio is Chevron's General Manager for ESG and Sustainability, works closely with Chevron's senior leadership to develop the company's strategy on ESG issues, and leads Chevron's outreach to shareholders and key stakeholders on ESG matters. Michael joined Chevron in 2013 as the Manager for State Government Affairs in California, Oregon, and Washington.
Prior to joining Chevron, Michael served in the California State Senate and emerged as a leader on issues related to the California Environmental Quality Act. Previously, Michael served as an elected county supervisor in Kern County (CA), where he spearheaded the Kern County Renewable Energy Initiative and worked to facilitate the development of large solar and wind projects in California. Michael began his career in the public sector serving as Lead Director for a Healthy Start office, a non-profit agency, that provided social services to disadvantaged children and families in the Central Valley of California.
Michael attended the University of New Haven in Connecticut, graduating with honors in Criminology. Michael also completed the Senior Executives in State and Local Government Program at the John F. Kennedy School of Government at Harvard University. He was awarded the John F. Kennedy Jr. Leadership Award from the California Democratic Party and a German Marshall Memorial Fellowship from the German Marshall Fund of the United States.
Read More

10:55 am – 11:45 am CDT
Finding a New Synergy in Energy
The New Energy Horizon: Opportunities for Coexistence of Hydrocarbons, Renewables & Alternative Energies
In recent years, companies across the oil & gas spectrum have begun to invest in renewable energy. While some have been involved with renewables for many years, most are new to the space. Companies are taking very different approaches to their investments, but consistently these are economic decisions driven by the quickly decreasing costs of renewables. This panel will explore why companies are moving into renewable energy and what the future looks like for energy companies as the industry transitions. We will discuss a variety of technologies, from wind and solar to biofuels and electric vehicles to energy storage and talk about opportunities for oil & gas companies looking to enter this part of the industry.
BIOS
Becky Diffen is a partner based in Norton Rose Fulbright's Austin office where she focuses her practice on mergers and acquisitions, joint ventures, project development, and tax equity financings of renewable energy, energy storage, power generation and transmission projects - including wind, solar, battery storage, geothermal, waste-to-energy, and other technologies. She also has experience advising clients on Texas regulatory law. Becky has over 18 years of experience in the renewable energy industry and previously worked as a utility-scale wind power developer.
Becky is a co-author of Wind Law, the first and only legal treatise focused on the wind industry. She has been recognized in Chambers USA, Law360 Rising Stars, and A Word About Wind's "Top 100 Legal Power List," amongst other honors. In 2019 she received the Clean Energy Education & Empowerment (C3E) Initiative Law & Finance Award from the Department of Energy recognizing her nationally as a top lawyer advancing innovative clean energy financing solutions.
Becky serves on the board of directors of the national Women of Renewable Industries and Sustainable Energy (WRISE) organization, as well as her work as chair of WRISE's webinar committee and co-chair of the 2021 WRISE Leadership Forum. Becky is a magna cum laude graduate of Carleton College and earned her J.D. with honors from the University of Texas School of Law, where she served as Editor-in-Chief of the Texas Journal of Oil, Gas, & Energy Law and now teaches a seminar on renewable energy law as an adjunct professor.
--
Meg Murphy is a Vice President of the EnCap Investments L.P. Energy Transition Fund ("EETF"). Prior to joining EETF, Ms. Murphy was a Vice President on EnCap's oil and gas upstream investment staff where she was actively involved in the evaluation and execution of several greenfield projects, acquisitions, and divestitures across numerous portfolio companies. Prior to joining EnCap in August 2014, Ms. Murphy spent three years working in the Global Energy Investment Banking Group at Citigroup, where she focused on M&A advisory work and public capital raises. Ms. Murphy graduated summa cum laude from the University of Arizona, where she received a B.B.A. in Finance.
--
Glenn Wright is VP New Energies Americas and brings more than 28 years of experience in industrial and commodity markets to his current role. His background includes technology, mergers & acquisitions, trading, risk management and business development.
He started his career in 1992 as a Research Engineer for Royal Dutch Shell, with a move following that to become Strategy Manager for a Shell polymers business focused on fibers and engineering plastics. In 2000, Glenn joined Enron as a power and gas originator for industrial markets, later becoming a Vice President for steel trading. In 2002, Glenn joined Enterprise Business Development, a company focused on early-stage seed funding of entrepreneurial ventures.
Glenn returned to Royal Dutch Shell in 2005 as General Manager of Portfolio Projects (M&A) for Downstream Businesses and later General Manager of Business Development for Lubricants. He joined SENA in 2008 as a Senior Vice President of trading and marketing, which later evolved into Senior Vice President of power trading and then President of Shell Energy North America in 2016.
Glenn holds a Bachelor of Science degree in chemical engineering from The Georgia Institute of Technology, a Ph.D. in chemical engineering from The University of Texas at Austin and an MBA from The University of Texas at Austin.
Glenn lives in Houston, with his wife of 25 years, Carmen. They have two wonderful daughters, Taylor and Lauryn.
Read More

12:10 pm - 1:00 pm CDT
Luncheon Keynote: "New Normal in the Oil Patch"
The Changing E&P Business Model: The Future Isn't What It Used to Be
The volatility of the past six years has left the E&P sector in a state of flux. Energy, as a percentage of the S&P 500 is at or near its historic low. Investors have fled the space amid accusations that the E&P sector has destroyed capital through the cycles. To this, I offer three words: guilty as charged.
The E&P business model must evolve to meet the demands of a changing era. This includes financial performance that competes with other sectors of the economy. Gone are the days when the generalist investor automatically allocates a portion of his or her investment portfolio to energy. After a decade or more of serial underperformance, the E&P sector must earn back investor confidence.
E&Ps have all the tools to win the investor back, restore confidence in our sector, and meet the growing challenges of a changing energy and political landscape. The E&P business model must evolve to deliver tangible investment returns to owners and meet the growing demands of ESG transparency and performance. This will necessitate a changed mindset and a commitment to discipline through commodity price cycles. The future success of the E&P sector is ours to control.
SPEAKER BIO
Thomas E. Jorden was named President and Chief Executive Officer of Cimarex in September 2011 and Chairman of the Board in August 2012. Mr. Jorden previously served as Executive Vice President of Exploration since the formation of Cimarex in December 2003 and held that same position at Key Production Company, Inc., Cimarex's predecessor. Prior to joining Key, Mr. Jorden was with Union Pacific Resources and Superior Oil Company. He is a graduate of the Colorado School of Mines where he earned B.S. and M.S. degrees in Geophysics. Mr. Jorden serves as Chairman of the Board of Trustees for the Colorado School of Mines. He also serves on several industry and charitable boards, including the American Petroleum Institute, the American Exploration and Production Council, and ACE Scholarships.
Read More

1:10 pm - 2:00 pm CDT
Red. Blue. Green. The Spectrum of Political Influence on the Energy Industry
Election Results: Challenges and Opportunities for Our Industry
President Biden and his Administration have commenced a comprehensive effort to significantly alter America's energy future. On issues ranging from energy production on federal lands to climate change, environmental regulation and energy efficiency, the Biden Administration has charted an aggressive path that will impact our industry and the nation for years to come.
This panel will discuss the issues facing American energy producers in the coming year. It will look beyond the direct impact facing the oil and natural gas industry and focus on the challenges energy policy plays on manufacturing, labor, international trade and social policy. Speakers will discuss the political situation in Washington and ways for the industry to engage with Congress and the White House on a variety of important issues.
BIOS
Daniel T. Naatz
Dan Naatz is Executive Vice President for the Independent Petroleum Association of America (IPAA) – a non-profit trade association headquartered in Washington, D.C. IPAA serves as the nationally recognized voice for the exploration and production segment of the industry, and Dan and his award-winning team of experts advocate its members' views before the United States Congress, the Administration and federal agencies. In Dan's current role, he oversees the onshore and offshore federal resource issues for the association and manages all political activities for IPAA.
Prior to IPAA, Mr. Naatz spent 12 years on Capitol Hill working for the late Senator Craig Thomas (R-WY) in various capacities including Chief of Staff and Legislative Director.
Mr. Naatz holds a Bachelor of Arts degree in Political Science from Colorado College and a Master of Arts in Public Administration from the University of Virginia.
--
Bob Moran is an experienced public policy executive with a demonstrated track record working within the oil and gas industry on the development, implementation and management of crisis communications, corporate social responsibility, and direct and grassroots advocacy strategies.
Bob joined FTI Consulting in Nov. 2018 as Senior Managing Director within the company's Strategic Communications practice. He is co-chair of the government affairs practice, managing the representation of FTI clients' legislative, regulatory and policy-related matters within the federal, state, local and international political arenas.
Prior to joining FTI, he was Vice President of Halliburton's Government and External Affairs Office, where he directed the company's global government relations activities, managed outreach to the media and trade press and advised corporate leadership on anticipated political, economic and industry trends. Prior to joining Halliburton as Director for Government Affairs in 2006, he served as Washington Representative for the American Petroleum Institute from 2001 to 2005. And he served as Director of Government Affairs for the National Ocean Industries Association from 1991 to 2001.
He has served on several association boards including the National Foreign Trade Council, USA*Engage (co-chair), the Petroleum Equipment & Services Association (Policy Committee Chair), the Executive Council of Diplomacy, the US Algerian Business Council, the US Kazakhstan Business Council, the Council for Employment Through Exports and the Business Industry Political Action Committee (BIPAC).
In 2001, he was the recipient of the Minerals Management Service's Corporate Leadership Award and, in 2007, received the Offshore Operators Committee Recognition Award. He served on the Department of Commerce's Federal Advisory Committee on Marine Protected Areas from 2003-2006. He most recently served on the twenty-member U.S. - Mexico Energy Business Council, established in 2015 by the U.S. and Mexican governments and he chaired the Council's Energy Working Group.
Bob graduated from the University of Miami with a BS in Marine Science, Biology & Chemistry.
--
Rachel Jones is vice president of energy and resources policy at the National Association of Manufacturers (NAM). Ms. Jones oversees the NAM's energy and environmental policy work and has expertise on issues ranging from energy production and use to air and water quality, climate change, energy efficiency and environmental regulation. She is a key voice for manufacturing on Capitol Hill, at federal agencies and across all forms of media.
Before joining the NAM, Jones was the environment and energy counsel for the U.S. House of Representatives Committee on Science, Space, and Technology, where she advised the Committee on EPA, Department of Energy, Department of the Interior, FERC, NASA, NOAA and the White House Office of Science and Technology activities. She served as a legal fellow for the U.S. Senate Committee on Environment and Public Works and as executive student notes and comments editor for the Energy Law Journal.
Ms. Jones's relentless drive has made her a powerful advocate for our members and a respected voice on the Hill and in the Administration on issues ranging from environmental policy to energy production to infrastructure and regulatory issues.
Ms. Jones has a B.A. from Oklahoma Baptist University and a J.D. from University of Tulsa College of Law.
--
Michael Zehr joined HBW Resources in 2011 as Vice President of Federal Affairs. Michael has over two decades of experience in energy policy and served as a senior policy advisor in the U.S. Senate where he provided legislative strategy and counsel to four U.S. Senators, including U.S. Senate Republican Leader Mitch McConnell. A procedural and legislative strategist, Michael has specialized in developing legislative proposals and advocacy plans dealing with complicated and politically sensitive initiatives.
As Vice President of Federal Affairs, Michael monitors all federal activities affecting HBW's clients, and he directs the firm's federal lobbying activities in Washington, DC. Michael is actively engaged in efforts to shape energy, environment, and transportation policy development through educational outreach and direct advocacy.
While on the Hill, Michael served as Legislative Director for U.S. Senator George LeMieux (FL), Legislative Director for U.S. Senator Mel Martinez (FL), Staff Director for the Senate Special Committee on Aging, Legislative Assistant for U.S. Senator Mitch McConnell (KY), and Legislative Assistant for U.S. Senator Tim Hutchinson (AR).
He holds a Master of Arts degree in National Security and Strategic Studies from the U.S. Naval War College, a Master of Science degree in Biotechnology from Johns Hopkins University, and a Bachelor of Science degree in Chemistry from the University of Virginia.
Read More

2:10 pm - 3:00 pm CDT
The Bat Impact
Energy Transitions and COVID-19: Framing the Challenges Ahead
Energy transitions have merged with political transitions, and the implications are enormous. The Biden Administration is aiming to tackle climate change head on using the full weight of various government agencies and aggressive new legislation. The thin Democratic majority in Congress sets the stage for some concerted action, but given how thin the majority is, any legislative action will likely have to muster at least some bipartisan support. This sets the stage for some good old-fashioned negotiation. As we move through 2021, much of the initial focus will be on COVID19, health care and addressing the economic pain the pandemic has caused. But, even before the dust settles on that front, we will have some clarity on the intended path forward regarding energy and climate policy. There are numerous challenges ahead, but also opportunities. This talk will address how the path to seizing those opportunities must recognize the principle of comparative advantage and the fact that there are significant regional differences in how energy transitions will play out in the post COVID world.
BIO
Kenneth B. Medlock, III is the James A. Baker, III and Susan G. Baker Fellow in Energy and Resource Economics and senior director of the Center for Energy Studies at Rice University's Baker Institute. He is co-director of the Master of Energy Economics program and an adjunct professor in Economics and Civil and Environmental Engineering. Medlock is a Distinguished Fellow at the Institute Energy Economics Japan and on the Advisory Board of the Payne Institute at Colorado School of Mines. Medlock has published numerous scholarly articles, has testified multiple times on Capitol Hill on U.S. oil and natural gas exports and geopolitics, has spoken at OPEC, and is frequently asked to speak at venues around the world. He is a past vice president for conferences and for academic affairs of the USAEE. In 2001, he won (with Ron Soligo) the IAEE Best Paper of the Year Award in the Energy Journal. In 2011, he received the USAEE's Senior Fellow Award, and in 2013 he accepted on behalf of the Center for Energy Studies the USAEE's Adelman-Frankel Award. In 2012, Medlock received the prestigious Haydn Williams Fellowship at Curtin University in Perth, Australia. In 2019, he received the Lifetime Achievement Award for the Advancement of Education for Future Energy leaders by the Abdullah Bin Hamad Al-Attiyah Foundation in Qatar. Medlock is a member of the American Economic Association and is an academic member of the National Petroleum Council. He received his Ph.D. in economics from Rice University in May 2000.
Read More

3:00 p.m. - 3:50 p.m. CDT
Blood in the Water: Survival of the Fittest
New Ways to Capitalize on New Opportunities – A Silver Lining
Executive, finance and legal experts discuss upstream private debt and equity capital alternatives in these volatile times. Covering mergers, acquisitions and dispositions, private equity investment, bank finance, restructuring, and operations solutions. They will discuss in detail what private lenders/investors require, the new risk/reward equilibrium, and how this cycle differs from the 2014 and 2017 cycles.
BIOS
Omar Samji is a partner in Shearman & Sterling's Mergers & Acquisitions practice and Energy Industry Group.
His practice focuses on strategic transactions, private equity investments, joint ventures, and project development for clients in the energy industry, with a particular emphasis on energy transition, low carbon energy, energy-related infrastructure, and midstream transactions.
Omar was recognized as a "Most Effective Dealmaker" in 2020 (Texas Lawyer). Clients describe Omar as a "very measured" lawyer who delivers "fantastic results" (Chambers USA).
--
Luckey McDowell is a team leader of the Financial Restructuring & Insolvency practice.
With particularly deep experience representing energy sector clients, he focuses on capital restructuring for highly leveraged companies, out-of-court workouts, insolvency-specific guidance to boards, and all aspects of bankruptcy cases throughout the country. He also has extensive experience representing buy-side clients negotiating with financially distressed companies.
Within the energy industry, his clients include companies involved conventional and renewable power generation, as well as oil and gas exploration and production and oilfield services.
--
Bernadette Johnson serves as Senior Vice President, Power & Renewables for Enverus and is responsible for leading the growth and expansion of Enverus' power and renewables offerings. She joined the company through the acquisition of products and services from Ponderosa Advisors. With over 13 years experience in the energy industry, Bernadette has earned the reputation of industry expert with extensive experience providing power, crude, natural gas, and NGL fundamentals analysis and advisory services to various players in the North American and global energy markets. A regular commentator for and speaker to the energy industry, her specific market expertise spans financial trading, production forecasts, demand forecasts by sector, infrastructure analysis, midstream analysis, storage value analysis, and price forecasts. Her broad energy market experience also includes a deep understanding of the interplay across both primary and secondary energy resources and implications for the future as a result of increased electrification and shifting consumer demand preferences. Prior to joining Ponderosa, and now Enverus, Bernadette was Senior Research Analyst for Sasco Energy Partners in Westport, CT where she provided analytics and research support for a team of financial traders active in natural gas, power and oil futures markets. Bernadette began her career with BENTEK Energy, LLC as a Senior Energy Analyst, Natural Gas Market Fundamentals and consulting project team lead. Bernadette holds an MS Degree in International Political Economy of Resources and a BS Degree in Economics, from the Colorado School of Mines.
--
Chris Wagner has 30 years experience in various energy-related banking, corporate finance and advisory roles. For the past seventeen years Mr. Wagner has served as the Managing Partner of Rivington Holdings, LLC, a firm he co-founded in 2002. Based in Houston, Texas, Rivington Holdings is an independent merchant and investment banking firm specializing in private capital transactions and corporate finance advisory services within the middle market upstream energy sector. Inception to date, the firm has closed 95 capital and advisory transactions with an aggregate value of $7.8 billion.
Prior to Rivington Holdings, Mr. Wagner was a founding partner and Chief Financial Officer of Shenandoah Energy Inc., a privately held energy company with upstream and midstream operations in the Rocky Mountain region of the U.S. Shenandoah was sold in July 2001, yielding 115% IRR / 3.4x ROI to the equity holders. From 1993 to 1999, Chris was employed by ING Baring Furman Selz LLC (New York) in the Natural Resources Group. While at ING, Mr. Wagner originated and executed corporate finance and investment banking transactions within the small cap upstream energy space. Prior to ING, Chris worked in the Petroleum & Minerals group of First City, Texas in Houston.
Mr. Wagner currently serves on the Board of Managers for Larchmont Resources, LLC, a private, institutionally backed independent producer with interests in > 2,500 producing wells located in seven states. Additionally, Mr. Wagner serves on the Advisory Council for the Department of Economics at The University of Texas at Austin.
Mr. Wagner received a B.A. in Economics from the University of Texas at Austin.
Read More