2019 Global Business Conference Speaker Lineup and Schedule
01.09.2019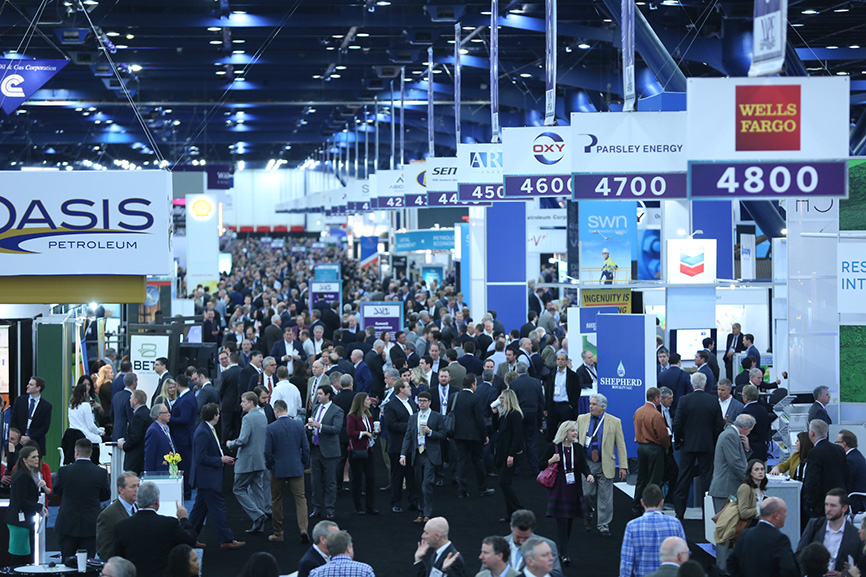 The NAPE Global Business Conference will feature keynote speaker Mike Grimm, president, Rising Star Petroleum, LLC who will recap 2018's domestic oil and gas industry mergers and why they occurred and examine 2019's prime candidates for mergers and takeovers in his presentation "Mergers and Where the Domestic E&P Business is Headed Today."
"The NAPE Global Business Conference has been a longtime advantage of NAPE Summit for oil and gas professionals, providing an inside, in depth look at the industry's most critical trends and impactful narratives," said Jim Devlin, chairman, NAPE Operators Committee. "The 2019 NAPE Global Business Conference will feature several C-suite presenters who have a breadth of experience and offer up unique perspectives to conference attendees."
NAPE Summit Week will also feature the annual NAPE Summit Charities Luncheon with President George W. Bush and Former First Lady Laura W. Bush as keynote speakers; a job fair for upstream professionals; educational seminars presented by industry organizations AAPL, IPAA, SEG and AIPN; domestic and international NAPE Theaters running two days of Prospect Previews and Capital and Service Provider Presentations; and a two-day oil & gas prospect expo on nearly 15 acres of exhibition space. The expo will conclude with a Summit Sweepstakes Drawing for a Jeep on Friday, February 15.
The NAPE Global Business Conference will open with an OCS panel discussion on "Navigating the Offshore Joint Operating Agreement" moderated by J. Keith Couvillion, North America land advisor, Chevron U.S.A. Inc. Couvillion will be joined by panelists Marty Tate, head of upstream agreements, BHP Billiton Petroleum; and Tom Young, vice president of business development, Deep Gulf Energy Companies. This panel discussion will cover an overview of the common provisions found in an offshore operating agreement and highlight some of the challenges lessees face when buying, exploring and developing leases of submerged offshore lands.
The conference will also include the following presentations that address major industry trends, opportunities, developments and challenges for the oil and gas industry:
"Raising Public and Private Capital in an Interesting Environment" panel discussion moderated by Bill Marko, managing director, Jefferies LLC with panelists Jimmy Crain, partner, EnCap Investments L.P.; David Humphreys, managing director, Wells Fargo Securities; and Phil Pace, partner, Chambers Energy Capital.
"Building Your Company in Partnership with Private Equity: My Lessons Learned" presented by Donald Burdick, CEO, Olifant Energy, LLC
"Politics, Social Media and Regulation – The Changing World of Hydrocarbon Pipelines" presented by Matt Ramsey, president and COO, Energy Transfer Partners, L.P.
"Why International Exploration Still Matters" presented by Mark Gunnin, president, Hunt Oil Company
"So Much Supply and Nowhere to Go: An Outlook for North American Oil and Gas Markets" presented by Kristy Kramer, head of Americas Gas Research, Wood Mackenzie, and John Coleman, senior analyst, Wood Mackenzie
The Global Business Conference is sponsored by Concho Resources; South Australia; Government of South Australia, Department of the Premier and Cabinet; Government of Western Australia Department of Mines, Industry Regulation and Safety; Australian Government, Geoscience Australia; and Queensland Government. NAPE was founded in 1993 to help stimulate oil and gas industry activity during a downturn. Since its launch with 800 attendees and 80 booths, NAPE has grown exponentially to include 15,000 attendees and hundreds of booths at its two annual expos, NAPE Summit and Summer NAPE. To register for NAPE Summit Week 2019, visit www.napeexpo.com.
About NAPE
NAPE – the oil and gas industry's marketplace for the buying, selling and trading of prospects and producing properties – brings oil and gas professionals together to meet, network, connect and do business. NAPE offers two expos annually in Houston – NAPE Summit in February and Summer NAPE in August – bringing together prospects and all the key players needed to evaluate, facilitate and execute deals. The internationally recognized NAPE was established in 1993 by the American Association of Professional Landmen and also includes IPAA, SEG and AAPG as partners. For more information on NAPE, please visit www.napeexpo.com and follow NAPE on Twitter at @NAPE_EXPO.