Summer NAPE 2019 Launches Business Conference Speaker Lineup
06.06.2019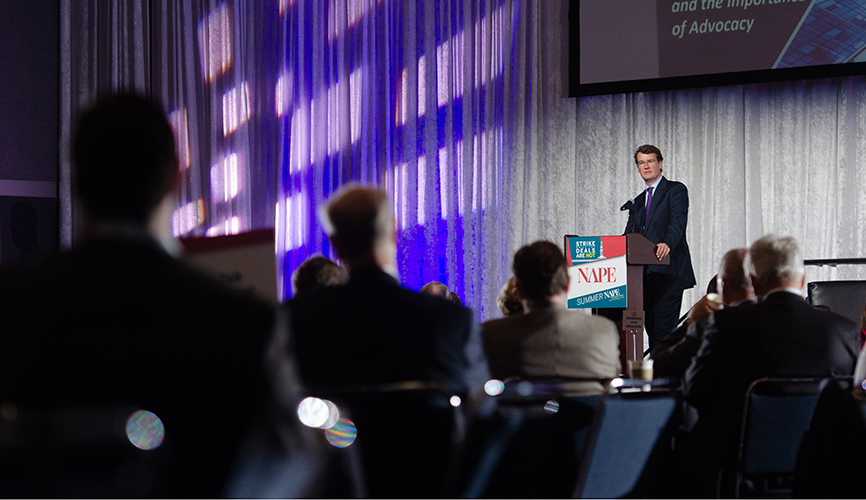 Summer NAPE announced today the speakers and schedule for the upcoming Summer NAPE Business Conference taking place August 21, 2019, as part of the annual oil and gas expo at the George R. Brown Convention Center in Houston. The NAPE Business Conference will feature keynote speaker Kimberly S. McHugh, vice president, upstream drilling and completions, Chevron, who will discuss the future of the oil and gas industry in her presentation "The Infinite Game – Tomorrow's Energy Industry."
"This year's Summer NAPE Business Conference will provide attendees with the opportunity to hear from several C-suite presenters on the industry's most compelling topics and impactful trends prior to the expo doors opening," said John Lodge, CPL, chairman, NAPE Operators Committee. "From innovations in data to navigating production, pricing and acquisitions, the speakers will address all critical challenges and opportunities facing the industry right now."
The Summer NAPE Business Conference will open with J. Michael "Mike" Party, owner and president, Beryl Oil and Gas, LP, who will explore "Horizontal Drilling in the Permian Basin – A Look at How We Got Here." Party will examine formations where horizontal wells are actively drilling to better understand and learn from the recent transitions from conventional to unconventional resource plays.
James Wagstaff, senior vice president oil & gas, PowerAdvocate, will continue the conference conversation with "Innovations in Data: Lower Costs, Greater Value" and share a perspective on the importance of surgical cost management, how certain themes can impact operators' abilities to perform well, and real examples of how industry operators are using creative or innovative data approaches to improve cost performance.
Prior to the keynote presentation, Stephanie Reed, senior vice president – land and marketing, Parsley Energy, will moderate a panel discussion on "Minerals – Navigating Production, Pricing and Acquisitions." Reed will be joined by panelists Kaes Van't Hof, president, Viper Energy Partners; Austen Campbell, co-CEO, Santa Elena Minerals; and Chris Transier, CEO, Fortis Minerals.
Summer NAPE will also feature Connections & Conversations, which will be tailored to young professionals within the energy industry; educational courses presented by IPAA and OCS; Government Affairs Session presented by Marcella Burke, acting senior counselor to the assistant secretary for land and mineral management, Department of the Interior; Prospect Previews and Capital and Service Provider Previews in the NAPE Theater; and an oil and gas prospect expo with more than 200 exhibitors. Summer NAPE will conclude with the popular Hot Play Happy Hour Socials following an out-of-this-world Summer Sweepstakes Drawing for a Vanderhall Speedster on Thursday, August 22.
For more information on Summer NAPE and to register to attend or exhibit, visit napeexpo.com.
About NAPE
NAPE – the oil and gas industry's marketplace for the buying, selling and trading of prospects and producing properties – brings oil and gas professionals together to meet, network, connect and do business. NAPE offers two expos annually in Houston – NAPE Summit in February and Summer NAPE in August – bringing together prospects and all the key players needed to evaluate, facilitate and execute deals. The internationally recognized NAPE was established in 1993 by the American Association of Professional Landmen and also includes IPAA, SEG and AAPG as partners. For more information on NAPE, please visit napeexpo.com and follow NAPE on Twitter at @NAPE_EXPO.