Industry Experts, Leaders Look Forward to Year of Growth, Impact for Energy Market
02.18.2019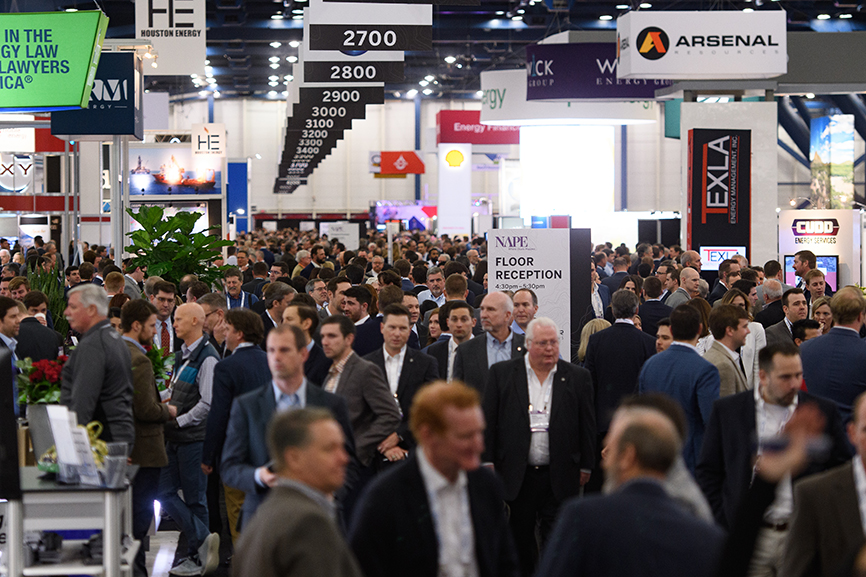 In Houston, 12,360 oil and gas professionals from around the world connected, reconnected and made deals happen during NAPE Summit 2019 on Feb. 11-15 at the George R. Brown Convention Center. NAPE Week provided attendees with opportunities to network and grow in their profession from the annual NAPE Global Business Conference to the inaugural Connections & Conversations: Women in Energy.
"We continue to see the oil and gas industry grow, and this year's NAPE Summit was a ture reflection of how strong our profession is today," Jim Devlin, CPL, chairman of the NAPE Operators Committee said. "NAPE Summit showed attendees and exhibitors the great opportunities that lie ahead in 2019, and we look forward to connecting even more key industry players to make deals happen for years to come."
The NAPE Global Business Conference on Wednesday gave attendees an opportunity to receive exclusive insights into the oil and gas industry from C-suite presenters with Olifant Energy, Wood Mackenzie, BHP Billiton Petroleum, EnCap Investments, and more. Keynote Mike Grimm, president of Rising Star Petroleum, LLC, discussed domestic exploration and production and where the industry is headed.
"Looking to 2019, the United States' supply will continue to grow while oil is over $50 a barrel. The Permian will continue to dominate with the Eagle Ford and Bakken as strong second place finishers," said Grimm. "Wall Street analysts will realize that when it comes to strength, backbone and world leadership, they won't be looking at brands like Netflix and Facebook; they'll be looking at the majors and rising independents in America."
Among the four networking events and five education seminars at NAPE Week was the annual Icebreaker, where thousands of oil and gas professionals mingled on Wednesday evening ahead of the exhibit hall opening on Thursday. Employers seeking to hire qualified and experienced candidates also connected with eager job seekers during the Job Fair on Wednesday afternoon.
On Thursday, President George W. Bush and former First Lady Laura Bush keynoted the 2019 NAPE Charities Luncheon, which supported four deserving veterans charities — Freedom Service Dogs of America, Support-A-Soldier, Women Veteran Services program - Catholic Charities of the Archdiocese of Galveston/Houston and The Military Service Initiative at the George W. Bush Institute — with donations totaling $325,000. America's oilmen honored the late President George H.W. Bush during the luncheon with a $1 million donation given in his name to the NAPE Expo Charities Fund to continue its mission of honoring veterans. This donation will be distributed in $100,000 increments over the next 10 years in President H.W. Bush's name to veterans charities selected by the NAPE Operators Committee.
Connections & Conversations — a new event to NAPE Summit designed to bring specific groups of people within the energy industry together — featured women in energy on Thursday afternoon. Top industry leaders shared their insights with attendees during an engaging panel discussion moderated by Jacki Pick, host of The Jacki Daily Show and senior fellow at the Texas Public Policy Foundation.
"Women make up a far greater percentage of the energy sector than most appreciate," said Pick. "Connections & Conversations brings us together, and just the sheer number of attendees was inspiring."
Panelists included Jeanine Haller Piskurich, CPL, vice president of land and East Business Unit at BPX Energy; Jamie Beggs, senior vice president & CFO at Hunt Consolidated, Inc.; and Kristi McCarthy, general counsel and vice president of land at Chevron North America Exploration and Production Company.
"I was happy to be a part of this panel and am excited the event was so well-attended," said McCarthy. "I hope it energizes women who may not see a path forward to where they want to go, because, as they learned at this event, none of us did either, and we did make it."
NAPE Summit Week also featured Prospect Previews, Capital & Service Provider Previews, and a Government Affairs Talk presented by Kathleen Benedetto, senior advisor to the director of the Department of the Interior at the Bureau of Land Management. A series of educational courses, workshops and seminars, hosted by the American Association of Professional Landmen, Independent Petroleum Association of America, American Association of Petroleum Geologists and Association of International Petroleum Negotiators, provided additional professional development opportunities for attendees. NAPE Week concluded with the Summit Sweepstakes Drawing for a brand new Jeep Wrangler. To register for Summer NAPE 2019, visit www.napeexpo.com.