Summer NAPE 2019: Where Deals Happened
09.18.2019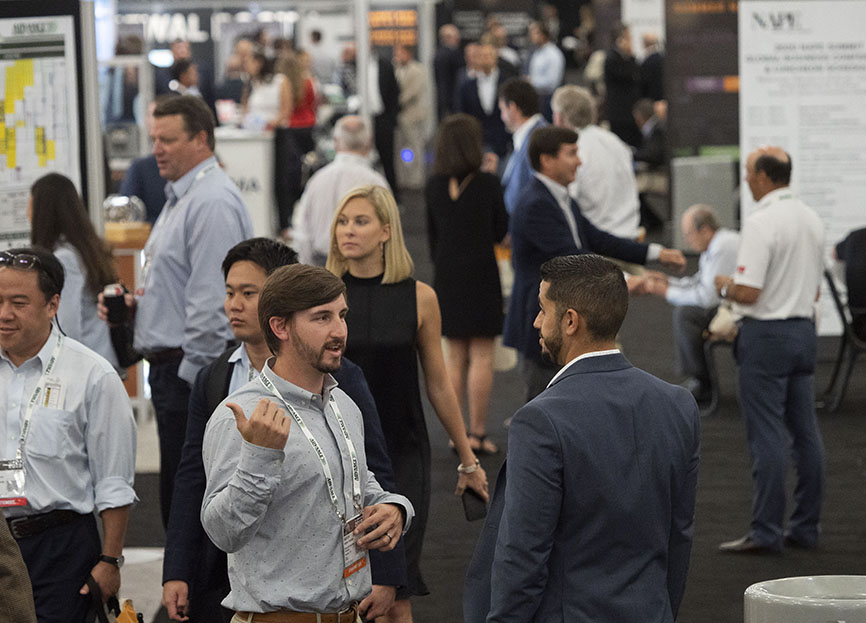 Kicking off the event, the annual Business Conference included executives from key industry players, including Chevron Corp., Parsley Energy, Viper Energy Partners, Fortis Minerals, Santa Elena Minerals, PowerAdvocate and Beryl Oil and Gas LP.
"This year's Summer NAPE Business Conference provided attendees with the opportunity to hear from several C-suite presenters on the industry's most compelling topics and impactful trends," said John Lodge, chairman of the NAPE Operators Committee. "From innovations in data to navigating production, pricing and acquisitions, the speakers addressed all critical challenges and opportunities facing the industry right now."
In addition, Business Conference keynote speaker Kim McHugh, vice president of upstream drilling and completions at Chevron, addressed the future of the energy industry.
"This is a noble industry. We give people a better way of life. At the same time, the industry is getting more complicated, and we must adapt to be more economic and efficient," McHugh said. "We need to use technology and innovation to be safer, reduce costs and make our locations more efficient. I believe there is so much more to come and so much more creativity that is going to happen in this space."
Following the Business Conference, the tradeshow floor opened to hundreds of exhibitors and thousands of attendees looking to connect and make deals. Prospect Previews were showcased throughout the afternoon in the NAPE theater, which allowed exhibiting companies to maximize their exposure and present their prospects to attendees.
"We've always been huge supporters of NAPE, in part because they're supporters of the industry. Summer NAPE is a good lead generation tool, and we also enjoy connecting with our current clients," said Nicole Durham, marketing director at Enertia Software.
"As a mineral and royalty acquisition company, we're always looking for opportunities to buy minerals direct from owners or brokers," said Kevin Labbe, vice president exploration at Brigham Minerals. "We use Summer NAPE as an opportunity to form relationships with our peers too."
Opening day concluded with the annual Icebreaker networking event.
Networking and dealmaking continued in full swing on day two. Capital and Service Provider Previews were showcased throughout the morning in the NAPE theater, which allowed exhibiting companies to pitch their services to NAPE attendees before the expo ended.
"NAPE is a good way to showcase our assets and make new connections. At this stage, we're primarily in a sales mode, but if we came across a good opportunity here at NAPE, we would pursue it," said Peter Lellis, president and CEO of Advance Energy Partners.
"This is our fifth year as an exhibitor, and it's is a great way to get our name out there. We've had attendees ask about our operations, where we're drilling and what we're looking to purchase or sell," said Grant Frankenfield, RPL, associate landman at BCF Minerals.
In the afternoon, Marcella Burke, senior counselor to the assistant secretary for land and mineral management in the Department of the Interior, led a government affairs session. She discussed the Trump administration's America First energy policy, where the goal is to achieve complete energy independence of foreign entities. She shared the administration's ambitious agenda to promote both deregulation and environmental sustainability. Burke explained that the administration is collaborating and coordinating with industry, while continuing to be a steward of the American people.
Young professionals also gathered in the afternoon for Connections & Conversations, where they gained insights and inspirations from a panel discussion by top industry leaders on the importance of professional development and the role that mentorship plays.
The expo closed with a Summer Sweepstakes drawing for a Vanderhall Speedster. After the drawing concluded, attendees and exhibitors headed to the Hot Play Happy Hours at neighboring local hot spots to network with oil and gas professionals working within their region.
"Summer NAPE is an opportunity to get to know our customers and showcase our differentiators, since we're unique among other companies here," said Orion Sandoval, senior geophysicist-geologist at Weyerhaeuser.
"We have attended for years and recently started exhibiting because we were in a position to grow our company," said Reagan Rich, CEO of Optima Land Services LLC. "We wanted to have a presence at an industry event, and it has been successful. We've acquired clients and built relationships through our time at NAPE."
Register Now for NAPE Summit
Join us Feb. 3-7 for NAPE Summit! NAPE Week will return with five straight days of dealmaking, networking and professional development with oil and gas professionals from around the world. You won't want to miss this year's Expo, Global Business Conference or NAPE Charities Luncheon, featuring Nikki Haley, former U.S. ambassador to the United Nations.
Visit the registration page for more information and to register.