Summer NAPE on the NAPE Network is where deals happen — online
08.18.2020
The first-ever virtual Summer NAPE kicked off last week, bringing buyers, sellers, investors and service providers together on the new NAPE Network to make deals happen.
"NAPE first began in 1993 as an innovative way to reignite the oil and gas industry during a downturn by creating a central marketplace for buyers and sellers to come together in one location to make deals happen. During the 2020 global pandemic, NAPE continues to find ways to innovate — this time by launching the NAPE Network," said Ron Munn, NAPE chairman and general manager-land at Chevron U.S.A. Inc.
"During this time of social distancing, the NAPE Network provides a digital platform that connects industry professionals with the vast NAPE audience as well as opportunities for networking, learning and — of course — dealmaking. We are excited to host over 180 exhibitors, 400 prospect listings and 1,500 attendees to our inaugural virtual expo," he added. "And with the flexibility of our NAPE Network online platform, Summer NAPE is open for dealmaking, networking and learning until Aug. 27."
Through the NAPE Network, registrants can access all the signature features of Summer NAPE: oil and gas prospects and producing properties, networking, job boards, presentations and roundtable discussions featuring industry experts from across the globe, and more.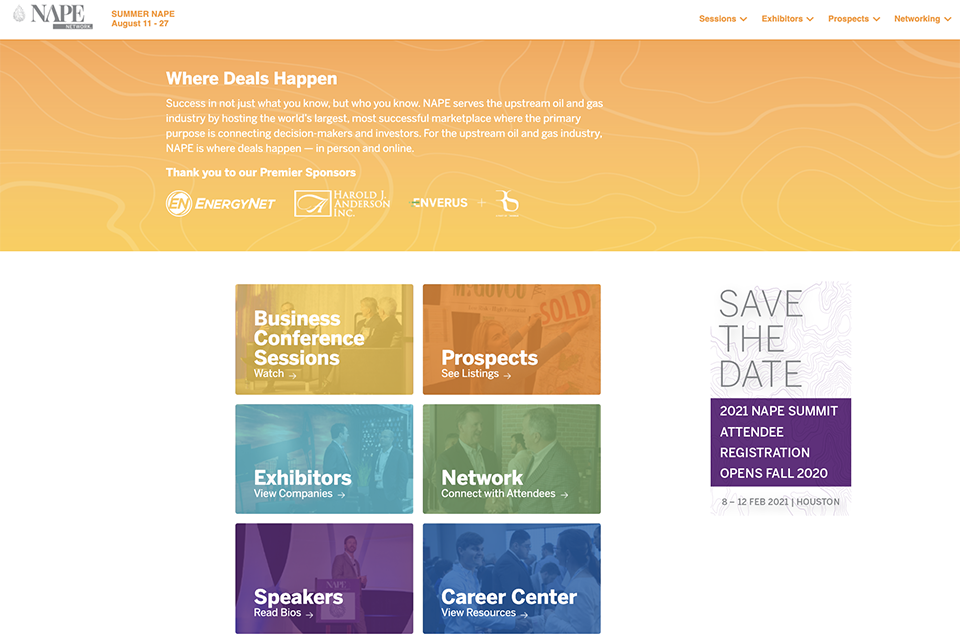 With just a few clicks, NAPE Network registrants can easily browse prospects and producing properties to buy, lease and trade and even narrow their search by investment level, acreage, exploration method, basin, state, county and company name.
Finding new connections is also effortless on the NAPE Network, which uses intelligent matchmaking technology to help registrants meet the right people for their business needs. And NAPE Network's chat feature keeps the conversation going.
In addition, with the new virtual format, registrants have access to the presentations, exhibits and networking opportunities for an extended run. Summer NAPE on the NAPE Network concludes at 4 p.m. Aug. 27 with the Network Sweepstakes drawing for $10,000.
Keynote with political analyst Karl Rove
Among the presentations now available to view on the NAPE Network is the Dealmakers Keynote featuring iconic political strategist Karl Rove, who served as senior advisor to President George W. Bush (2000-07) and deputy chief of staff (2004-07). Today the popular political pundit writes a weekly op-ed for The Wall Street Journal, appears frequently on the Fox News Channel and is the author of New York Times bestseller Courage and Consequence.
Drawing from his more than four decades of experience in the political arena, he shared insights into the November election and what it means for the energy industry.
"It's a sign of the times that we aren't able to meet in person but are talking over the air waves," Rove said. "Everything in our lives has been disrupted by this, and it's made the strange election of 2020 even stranger as a result."
Rove previewed the fall campaigns and also weighed in on the role of energy nationally and in key states, the impact of mail-in ballots, swing voters, campaign spending, advice he would offer to President Trump and more.
Roundtables with the experts
This year's Summer NAPE offers three roundtable discussion sessions featuring well-respected industry leaders. With the NAPE Network's chat feature, virtual attendees submitted questions for the panelists to answer during the live events, and moderators will continue monitoring the Q&A platform and respond to registrant questions throughout Summer NAPE's extended run.
Randy Nichols, CPL, of Cinco Energy Management Group moderated How to Maintain Your Leasehold When Shutting-in or Curtailing Production, which featured panelists Tom Agnew of Lease Analytics LLC, Michael Byrd of Akin Gump Strauss Hauer & Feld LLP, J. Keith Couvillion of Chevron U.S.A. Inc., Paul Trimble of Trimble Law Group PLLC and Jared Hembree of Hinkle Shanor LLP.
The worldwide pandemic, reduction in oil demand, Saudi Arabian and Russian production cut misalignment, and the collapse of oil prices created a perfect storm of unprecedented events that have shaken the U.S. oil and natural gas industry to its core. With oil demand significantly depressed, and prices for this oil a fraction of what it was last year, shutting in or curtailing production was the only viable option available to many operators to minimize the potential erosion of the remaining value of their leasehold. This lively roundtable discussion examined the Shut-in-Royalty, Cessation of Production and Force Majeure clauses in the oil and gas lease ("Lease Savings Clause") to determine which clause provides the best vehicle for maintaining leasehold when wells are shut-in.
"We believe the topic of this roundtable is relevant not only to landmen, but to CEOs, engineers and other energy professionals responsible for maintaining their leasehold for both onshore and offshore properties after expiration of the primary term and before shutting in or curtailing production," Nichols said. "As you will hear from many of these experts, it's not one size fits all."

Next, Randy Browne, CPL, of Haynes and Boone LLP moderated Purchasing Oil and Gas Assets Out of Bankruptcy, which featured panelists Sarah Schultz of Akin Gump Strauss Hauer & Feld LLP, Arthur Standish and Melissa Munson, both of Steptoe & Johnson PLLC, and David Morris of Opportune LLP.
Given the current oil and gas market conditions, the energy industry is bracing for an unprecedented number of E&P bankruptcy filings during 2020 that will likely extend into 2021. Panelists discussed the opportunities and challenges associated with purchasing oil and gas assets out of bankruptcy, including specific topics such as the bidding procedures, stalking horse bids, timing and due diligence constraints, and a buyer's expectation of taking the assets free and clear of liens, obligations and liabilities — or not.
Moderated by Steve Wentworth, CPL, of EOG, the third roundtable discussion — Transactions and Considerations in Today's Environment — Challenges and Opportunities — included panelists William Morris and Gabe Procaccini, both of Akin Gump Strauss Hauer & Feld LLP, and Jesse Lotay of Jackson Walker, who discussed merger and acquisition considerations in the current price environment, demand destruction and contractual response mechanisms, hedging strategies and requirements, and transactions involving bankruptcies. They also highlighted considerations involving perpetuating the oil and gas lease in this price environment.
"The industry has had lots of ups and downs," Procaccini said. "There are lots of lessons that can be learned if you just look at our history in this industry — and try not to repeat those."
Business Conference sessions
In Tight Oil 2020: Analyzing Impacts of the Price Crash, Robert Clarke, vice president of upstream research at Wood Mackenzie, answered several pressing questions: Which companies, plays and assets have changed the most? Where are the bright spots and do they include M&A? What could markets respond to and how might 2021 unfold?
"Tight oil was changing a little bit in 2018, it was certainly changing in '19 and it was changing in the first quarter of 2020 before the crash," Clarke said. "What the crash has done is essentially sped up or turbocharged a lot of these changes."
In Future of Oil and Gas Capital Markets — Where's the Money Going to Come From?, Moderator James "Jim" Wicklund, managing director of Stephens Inc., led the discussion among panelists Dan Pickering, chief investment officer of Pickering Energy Partners, Mari Salazar, SVP-manager at BOK Financial, and Steven Cobb, vice president of Pearl Energy Investments.
"The U.S. set consecutive records for the fastest production growth by any country in the world for the last several years," Wicklund said. "We've taken oil production in the U.S. to the highest level of any country in the world through the shale boom. The problem was that we outgrew demand and then COVID hit."
The panel tackled numerous weighty questions: Who are the investors interested in the energy space? How do public and private investors think about current opportunities? Does the volatility and low valuations create room for optimism or just ongoing pessimism? How have ESG considerations changed the way in which investors think about energy investing? Are there signposts that signal an opportune time for investors in any particular areas in energy?
By industry for industry
"NAPE is unique in that it is brought to you by four not-for-profit organizations — AAPL, IPAA, SEG and AAPG," said NAPE Director Le'Ann Callihan. "All net profit derived from the NAPE expos goes directly to the four partnering associations to benefit their members and the industry at large through education, legislative and regulatory advocacy, scholarships and much more. Simply put, NAPE is produced by our industry for our industry — with the profits invested back into our industry. And that benefits us all."
Premier Sponsors for Summer NAPE and the NAPE Network are Enverus, Harold J. Anderson, Inc. and EnergyNet. Additional NAPE sponsors include Aegis Energy Risk, Rising Phoenix Royalties, 1031 Ventures, ThoughtTrace, Chevron and Hallux Talon Oil Services.
For more information and to register, click here.