Summer NAPE Thursday Recap
08.13.2020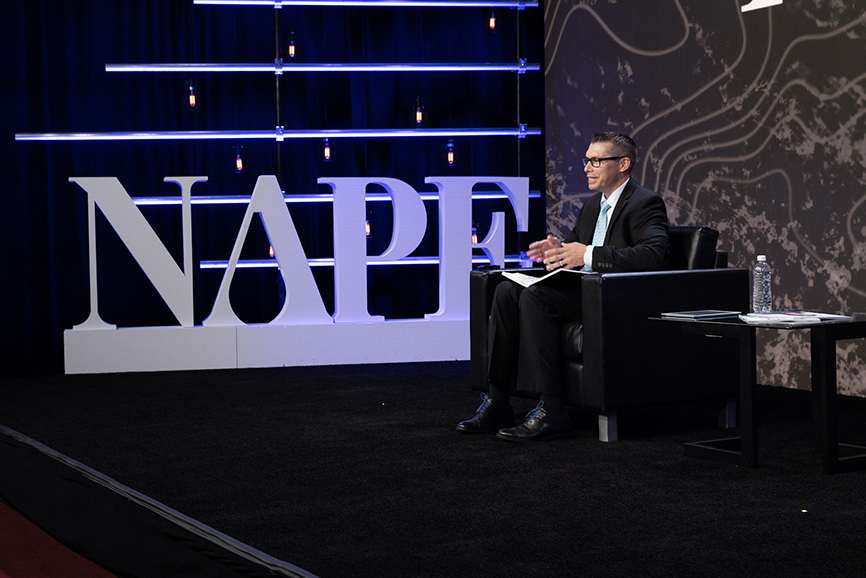 Day 2 of virtual Summer NAPE on the new NAPE Network was packed with more learning, connecting, reconnecting and dealmaking.
"I am honestly really enjoying virtual NAPE," said Blake Susman, CPL, president and CEO of Paramount Field Services LLC. "The online platform is slick, the presentations are well organized and everything — including networking — is more efficient. I'm a big fan and can already tell that virtual events are here to stay."
"I have always approached NAPE with the idea that you get out of it what you put into it. I was not overly enthusiastic about the virtual model when I first heard about it. However, now that I have seen it from the inside, it's a pretty slick setup," said Jerris Johnson, CPL, vice president of innovation at Paramount Field Services. "I'm looking forward to learning from the content and connecting and meeting with many and discussing what to expect and how to adapt in the future of the industry."
During Summer NAPE's run through Aug. 27, registrants have 24-hour access to NAPE's signature favorites: prospects, exhibits, networking, Roundtable Discussions and Business Conference Sessions. With just a few clicks, NAPE Network registrants can easily browse prospects and producing properties to buy, lease and trade and even narrow their search by investment level, acreage, exploration method, basin, state, county and company name.
NAPE networking also steps up to the next level with the NAPE Network, which uses intelligent matchmaking technology to help registrants meet the right people for their business needs.
"While we are disappointed we all can't be together in person right now, we are excited about the new opportunities the NAPE Network provides — such as our Matchmaking networking feature and chat features that allow virtual attendees to interact with our expert panelists and the extended access this virtual platform allows, adding new convenience and flexibility to participants working to earn CEU and CLE credits," said Le'Ann Callihan, director of NAPE. "For the first time, registrants have access to Summer NAPE's learning, networking and dealmaking opportunities for over two weeks! This year's virtual expo is live until Aug. 27 and we end it with a big bang — a sweepstakes drawing for $10,000!"
All Summer NAPE/NAPE Network registrants are automatically entered into the cash-prize drawing. Register at NAPEexpo.com.
Continuing to connect Summer NAPE registrants with top industry experts, Day 2 added a third Roundtable and two more Business Conference sessions:
Roundtable 3: Transactions and Considerations in Today's Environment — Challenges and Opportunities
Moderated by Steve Wentworth, CPL, of EOG, this discussion included panelists William Morris and Gabe Procaccini, both of Akin Gump Strauss Hauer & Feld LLP, and Jesse Lotay of Jackson Walker, who discussed merger and acquisition considerations in the current price environment, demand destruction and contractual response mechanisms, hedging strategies and requirements, and transactions involving bankruptcies. They also highlighted considerations involving perpetuating the oil and gas lease in this price environment.
"Through the bankruptcy process, there's a lot of transparency, and you get to see business models that didn't work and it's pretty interesting," Procaccini told virtual Summer NAPE attendees.
"Learn from the past," he said. "The industry has had lots of ups and downs. There are lots of lessons that can be learned if you just look at our history in this industry — and try not to repeat those. And of course preserve cash today — that's the key."

Business Conference: Tight Oil 2020: Analyzing Impacts of the Price Crash
Robert Clarke, vice president of upstream research at Wood Mackenzie, answered several pressing questions: Which companies, plays and assets have changed the most? Where are the bright spots and do they include M&A? What could markets respond to and how might 2021 unfold?
"Tight oil was changing a little bit in 2018, it was certainly changing in '19 and it was changing in the first quarter of 2020 before the crash," Clarke said. "What the crash has done is essentially sped up or turbocharged a lot of these changes. Looking forward from our perspective, what's happened is a lot of the risks that were maybe small a year ago have been amplified. So there's an opportunity to look at the sector and appreciate the risks more, and it could even go so far as to challenge the idea of the pureplay model."

Business Conference: Future of Oil and Gas Capital Markets — Where's the Money Going to Come From?
Moderator James "Jim" Wicklund, managing director of Stephens Inc., led the discussion among panelists Dan Pickering, chief investment officer of Pickering Energy Partners, Mari Salazar, SVP-manager at BOK Financial, and Steven Cobb, vice president of Pearl Energy Investments.
"The U.S. set consecutive records for the fastest production growth by any country in the world for the last several years," Wicklund said. "We've taken oil production in the U.S. to the highest level of any country in the world through the shale boom. The problem was that we outgrew demand and then COVID hit."
The panel tackled numerous weighty questions: With the challenging market conditions of 2020, and with the backdrop of generally poor asset class returns for a number of years, who are the investors interested in the energy space? How do public and private investors think about current opportunities? Are there newer investors in the space? Have incumbent investors modified the way they think about the space and have particular investors or classes of investors departed the space? Does the volatility and low valuations create room for optimism or just ongoing pessimism? How have ESG considerations changed the way in which investors think about energy investing? Finally, are there signposts that signal an opportune time for investors in any particular areas in energy?
All Roundtables and Business Conference Sessions are recorded and available to view throughout Summer NAPE's extended run. Summer NAPE on the NAPE Network is open until 4 p.m., Aug. 27. Join today!