Summer NAPE Wednesday Recap
08.12.2020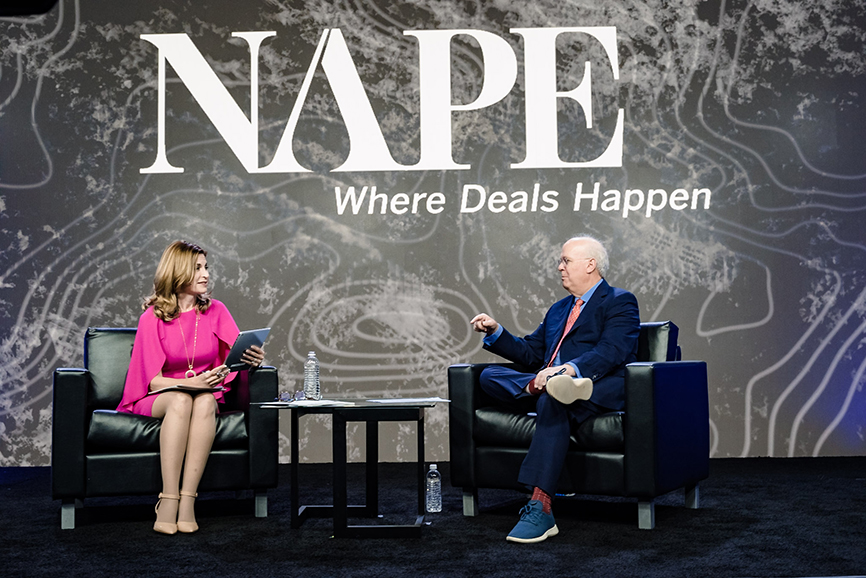 Summer NAPE on the new NAPE Network is the place where deals happen — online
NAPE kicked off its first-ever virtual Summer NAPE today. Hosted on the new NAPE Network, the event brought together buyers, sellers and investors to make deals happen.
"NAPE first began in 1993 as an innovative way to reignite the oil and gas industry during a downturn by creating a central marketplace for buyers and sellers to come together in one location to make deals happen. During the 2020 pandemic, NAPE continues to find ways to innovate — this time by launching the NAPE Network," said Ron Munn, NAPE chairman and general manager - land at Chevron U.S.A. Inc. "During this time of social distancing, the NAPE Network provides a digital platform that connects industry professionals with the vast NAPE audience as well as opportunities for networking, learning and — of course — dealmaking. We are excited to host 160 exhibitors, 400 prospect listings and 1,500 attendees to our inaugural virtual expo."
Through the new NAPE Network, registrants can access all the signature features of Summer NAPE: oil and gas prospects, networking, job boards, presentations and roundtable discussions featuring industry experts from across the globe, and more.
On the NAPE Network, prospect listings — including buy, lease, sell and trade — are just a click away and easily searchable by investment level, acreage, exploration method, basin, state, county and company name.
"Within an hour of NAPE Network's opening yesterday, we had our first inquiry on one of our Permian prospects. That's exciting given the introduction of a new NAPE platform," said T. Grant Johnson, president of Lone Star Production Co.
"NAPE is our lifeblood," he added. "We remain hopeful that we will continue to meet new groups through this format — and we don't have to keep filling the candy bowl!"
Finding new connections is also effortless on the NAPE Network with its Matchmaking feature, which uses intelligent matchmaking technology to help registrants meet the right people for their business needs. And NAPE Network's chat feature keeps the conversation going.
In addition, with the new virtual format, registrants have access to the presentations, exhibits and network through Aug. 27 — when the event concludes with the Network Sweepstakes drawing featuring a $10,000 cash prize. To register, visit NAPEexpo.com.
"This year's NAPE conference is a great example of innovation and flexibility," said Steve Green, president of Chevron North America Exploration and Production Co., during Chevron's exhibit video. "Instead of an in-person conference, this year's summer conference is a virtual one. Chevron's been a proud sponsor of NAPE for many years. We believe it's a great platform for the industry to discover new technologies and new opportunities."
"NAPE is unique in that it is brought to you by four not-for-profit organizations — AAPL, IPAA, SEG and AAPG," said NAPE Director Le'Ann Callihan. "All net profit derived from the NAPE expos goes directly to the four partnering associations to benefit their members and the industry at large through education, legislative and regulatory advocacy, scholarships and much more. Simply put, NAPE is produced by our industry for our industry — with the profits invested back into our industry. And that benefits us all."
Premier Sponsors for Summer NAPE and the NAPE Network are Enverus, Harold J. Anderson, Inc. and EnergyNet. Additional NAPE sponsors include Aegis Energy Risk, Rising Phoenix Royalties, 1031 Ventures, ThoughtTrace, Chevron and Hallux Talon Oil Services.
Following are some highlights from Day 1:
Political analyst Karl Rove
Iconic political strategist Karl Rove gave the keynote address, drawing from his more than four decades of experience in the political arena to share insights into the November election and what it means for the energy industry. Rove served as senior advisor to President George W. Bush (2000-07) and deputy chief of staff (2004-07). Today the popular political pundit writes a weekly op-ed for The Wall Street Journal, appears frequently on the Fox News Channel and is the author of New York Times bestseller Courage and Consequence.
"It's a sign of the times that we aren't able to meet in person but are talking over the air waves," Rove told Summer NAPE virtual attendees. "Everything in our lives has been disrupted by this, and it's made the strange election of 2020 even stranger as a result."
Rove, who admitted he has a fond spot in his heart for conventions and has attended 12 Republican National Conventions, discussed the evolution of national conventions and where we are now. He also previewed the fall campaigns and the particular importance of vice presidential nominees in this election. "We have the oldest candidates who have ever run for president on both parties. If elected, Joe Biden would take office at an older age than Ronald Reagan was when he left after eight years in office."

The fall election — the first held during a pandemic — will be like none before it. Rove believes the presidential race will be decided around how the candidates handle three meta concerns Americans have: the pandemic, who would do a better job of reigniting the economy, and the response to the lawlessness, violence and rioting that voters have seen across their TVs.

Rove also weighed in on the role of energy nationally and in key states, the impact of mail-in ballots, swing voters, campaign spending, advice he would offer to President Trump and more.

"It's only going to be, in my opinion, the cumulative effect of these campaigns finding a persuasive way to raise doubts and questions about the ability of the other side to combat these big issues," he said.

He also pointed to other periods of political unrest throughout U.S. history — the 1960s, the 1840s and 1850s before the Civil War, and even Thomas Jefferson's tie election that wasn't decided until the next February.

"As bad as our politics [are] today, don't let anybody try to convince you that it's the worst it's ever been," Rove said.
Roundtables with the experts
The afternoon sessions included two roundtable discussions featuring well-respected industry leaders. With the NAPE Network's chat feature, virtual attendees could submit questions for the panelists to answer during their presentation. Moderators will monitor the Q&A platform throughout Summer NAPE's extended run on the NAPE Network and continue responding to registrant questions through Aug. 27.
Randy Nichols, CPL, of Cinco Energy Management Group moderated How to Maintain Your Leasehold When Shutting-in or Curtailing Production, which featured panelists Tom Agnew of Lease Analytics LLC, Michael Byrd of Akin Gump Strauss Hauer & Feld LLP, J. Keith Couvillion of Chevron U.S.A. Inc., Paul Trimble of Trimble Law Group PLLC and Jared Hembree of Hinkle Shanor LLP.
The worldwide pandemic, reduction in oil demand, Saudi Arabian and Russian production cut misalignment, and the collapse of oil prices created a perfect storm of unprecedented events that have shaken the U.S. oil and natural gas industry to its core. With oil demand significantly depressed, and prices for this oil a fraction of what it was last year, shutting in or curtailing production was the only viable option available to many operators to minimize the potential erosion of the remaining value of their leasehold. This lively roundtable discussion examined the Shut-in-Royalty, Cessation of Production and Force Majeure clauses in the oil and gas lease ("Lease Savings Clause") to determine which clause provides the best vehicle for maintaining leasehold when wells are shut-in.
"We believe the topic of this roundtable is relevant not only to landmen, but to CEOs, engineers and other energy professionals responsible for maintaining their leasehold for both onshore and offshore properties after expiration of the primary term and before shutting in or curtailing production," Nichols said. "As you will hear from many of these experts, it's not one size fits all. It depends on the language within the four corners of the lease, governing law where the properties are located and regulations established by the state and federal bodies having jurisdiction."
Next, Randy Browne, CPL, of Haynes and Boone LLP moderated Purchasing Oil and Gas Assets Out of Bankruptcy, which featured panelists Sarah Schultz of Akin Gump Strauss Hauer & Feld LLP, Arthur Standish and Melissa Munson, both of Steptoe & Johnson PLLC, and David Morris of Opportune LLP.
Given the current oil and gas market conditions, the energy industry is bracing for an unprecedented number of E&P bankruptcy filings during 2020 that will likely extend into 2021.
"In fact there have already been 32 E&P bankruptcies filed through July 31 of this year, with nine being filed in July alone — the most in any month so far this year," Browne said.
During the roundtable discussion, panelists discussed the opportunities and challenges associated with purchasing oil and gas assets out of bankruptcy, including specific topics such as the bidding procedures, stalking horse bids, timing and due diligence constraints, and a buyer's expectation of taking the assets free and clear of liens, obligations and liabilities — or not.